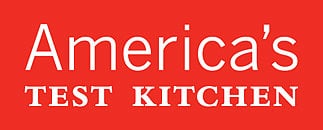 We've got a partnership with the recipe-, equipment-, and product-testing gurus at America's Test Kitchen. They'll be sharing some of their time-tested recipes and technical expertise with us weekly. This week, they're celebrating the arrival of the royal baby with a delectable Summer berry pudding (plus offering a trusty recipe to boot).
Most recipes for this traditional British dessert — sweetened berries encased in bread — barely qualify as cooking. So why is it so hard to get it right?
Summer berry pudding is more common in the United Kingdom than in the United States, but given the success of sticky toffee pudding, we say that we're due for another British invasion. To make it, a pudding mold — or often simply a bowl — is lined snugly with crustless bread, filled with lightly sweetened and cooked berries, and topped with a bread "lid." The pudding is compressed for some 8 hours with weights before it's inverted and unmolded. During the wait (and the weight), the berry juices permeate the bread, making for a sliceable magenta sweet that's a homey paean to summer.
For our version of this traditional British dessert, we use four different kinds of berries — blueberries, blackberries, raspberries, and strawberries — and we only cook a portion of them in order to retain the freshness of the fruit. To avoid a soggy pudding, we drain the berries and use the sweet juices to moisten the bread. Rich, eggy challah is the best choice for this dessert, and "staling" it in the oven makes it even sturdier. To prevent the pudding from slumping, we thicken the filling with a combination of unflavored gelatin and apricot preserves.
Keep reading for the Summer berry pudding recipe.
Summer Pudding Blueprint
Follow our plan for a juicy but firm pudding. Place the filled loaf pan in a baking dish to catch drips while the pudding sets in the refrigerator.
LAYERS, FROM BOTTOM TO TOP
Plastic wrap lines the loaf pan for easier unmolding.
Challah saturated with juices.
Sweetened four-berry mix.
Challah saturated with juices.
Plastic wrap on top seals the pudding while it chills.
Cardboard cutout distributes the weight.
Soup cans compress the pudding.
More stories from America's Test Kitchen:
Make Classic New England Split-Top Buns at Home
Secrets to Strawberry Stack Cake
The Worst College Food Ever
What's the Best Way to Store Ginger?
Notes
Fill in any gaps in pudding crusts with toast trimmings.
Ingredients
8 (1/4-inch-thick) slices challah, crusts removed
12 ounces strawberries, hulled and chopped (2 cups)
8 ounces blackberries, halved (1 1/2 cups)
8 ounces (1 1/2 cups) blueberries
5 ounces (1 cup) raspberries
1/2 cup (3 1/2 ounces) granulated sugar
1 teaspoon unflavored gelatin
2 tablespoons cold water
1/2 cup (5 1/2 ounces) apricot preserves
1 cup heavy cream, chilled
1 tablespoon confectioners' sugar
Directions
Adjust oven rack to middle position and heat oven to 350 degrees. Line 8 1/2 by 4 1/2-inch loaf pan with plastic wrap, pushing plastic into corners and up sides of pan and allowing excess to overhang long sides. Make cardboard cutout just large enough to fit inside pan.
Place challah on wire rack set in rimmed baking sheet. Bake until dry, about 10 minutes, flipping challah and rotating sheet halfway through baking. Let challah cool completely.
Combine strawberries, blackberries, blueberries, and raspberries in bowl. Transfer half of mixture to medium saucepan, add granulated sugar, and bring to simmer over medium-low heat, stirring occasionally. Reduce heat to low and continue to cook until berries release their juices and raspberries begin to break down, about 5 minutes. Off heat, stir in remaining berries. After 2 minutes, strain berries through fine-mesh strainer set over medium bowl for 10 minutes, stirring berries once halfway through straining (do not press on berries). Reserve berry juice. (You should have 3/4 to 1 cup.)
Sprinkle gelatin over water in bowl and let sit until gelatin softens, about 5 minutes. Microwave until mixture is bubbling around edges and gelatin dissolves, about 30 seconds. Whisk preserves and gelatin mixture together in large bowl. Fold in strained berries.
Trim 4 slices of challah to fit snugly side by side in bottom of loaf pan (you may have extra challah). Dip slices in reserved berry juice until saturated, about 30 seconds per side, then place in bottom of pan. Spoon berry mixture over challah. Trim remaining 4 slices of challah to fit snugly side by side on top of berries (you may have extra challah). Dip slices in reserved berry juice until saturated, about 30 seconds per side, then place on top of berries. Cover pan loosely with plastic and place in 13 by 9-inch baking dish. Place cardboard cutout on top of pudding. Top with 3 soup cans to weigh down pudding. Refrigerate pudding for at least 8 hours or up to 24 hours.
Using stand mixer fitted with whisk, whip cream and confectioners' sugar on medium-low speed until foamy, about 1 minute. Increase speed to high and whip until soft peaks form, 1 to 3 minutes. Transfer to serving bowl. Remove cans, cardboard, and plastic from top of pudding. Loosen pudding by pulling up on edges of plastic. Place inverted platter over top of loaf pan and flip platter and pan upside down to unmold pudding. Discard plastic. Slice pudding with serrated knife and serve with whipped cream.
Information
Category

Fruit, Desserts

Cuisine

North American

Yield

Serves 6