Summer Berry Trifle Recipe
Come Party With Me: Fourth of July — Dessert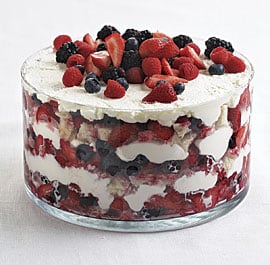 No Fourth of July party is complete without a red, white, and blueberry dessert. Instead of serving a dish that requires last minute preparation, select something like a layered trifle. The longer the whipped cream, mixed berries, and liquor-soaked bread sit, the better the trifle will taste. This recipe is easily adaptable, so feel free to use whatever berries and alcohol you prefer. Want to learn how it's made? Keep reading for the method.


Ingredients
1-1/2 quarts mixed fresh berries (hull and quarter strawberries), plus extra berries for garnish
3/4 cup plus 1 Tbs. granulated sugar
4 tsp. minced fresh ginger
1 lb. day-old French bread, crusts removed, crumb cut into 1/2 -inch cubes (5 to 6 cups)
1/2 cup Grand Marnier or Cointreau
1-1/2 cups heavy cream
Directions
Heat the berries and 3/4 cup of the sugar in a 4-quart saucepan over medium-high heat, stirring occasionally, until they start to release juice but are still whole and intact, about 5 minutes. Stir in the ginger and pour the mixture onto a rimmed baking sheet to cool.
Meanwhile, in a large bowl, toss the bread with 5 Tbs. of the liqueur.
In a chilled metal bowl with chilled beaters, whip the cream with the remaining 3 Tbs. liqueur and 1 Tbs. sugar to almost-stiff peaks.
In a 2- to 2-1/2 -quart clear glass bowl, layer in the following order: 1 mounded cup of bread cubes, 1 cup of berries and juices, and 1 cup of whipped cream. Repeat 3 times—you should have 12 layers total. For the final layers, use all the remaining bread, berries (and their juices), and whipped cream.
Cover and refrigerate until the juice has completely softened the bread, at least 4 hours or overnight. Garnish with fresh berries before serving.
Serves 10-12.
Information
Category

Desserts, Whipped Cream

Cuisine

English/Scottish/Irish