Summer Corn Sauté With Tons of Herbs Recipe
When You Tire of Corn on the Cob, Make Sautéed Corn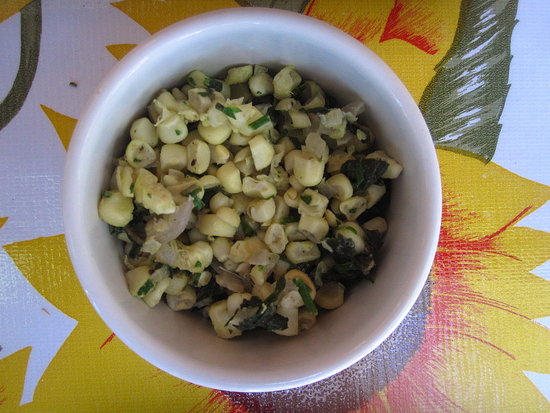 Although I love the flavor of corn, simply eating it off the cob can get a little boring. That's why I incorporate it in salads or quick and easy sautes. Upon reading this recipe in the current issue of Bon Appétit, I knew I would enjoy it.
It's an effortless dish; basically you take corn and saute it in butter, then throw in a bunch of herbs. It's uncomplicated, but wonderfully fresh with the pure flavors of Summer highlighted. I served it with grilled buttermilk chicken and it was the perfect side.
It's a pretty versatile recipe: the sautéed corn would be great over mixed greens, tossed in a warm tortilla and topped with crumbled cotija cheese, or on a crisp pizza dough with dollops of ricotta. Add the method to your repertoire now.
Ingredients
1/4 cup (1/2 stick) butter
1 large shallot, chopped
1 teaspoon cumin seeds
6 cups fresh corn kernels (cut from about 9 large ears)
1 teaspoon coarse kosher salt
3/4 teaspoon freshly ground black pepper
1 cup chopped assorted fresh herbs (such as basil, cilantro, chives, and parsley)
1/4 cup chopped fresh dill*
1/4 cup chopped fresh tarragon*
Directions
Melt butter in heavy large skillet over medium heat. Add shallot and cumin seeds. Sauté until shallot is golden brown, about 4 minutes.
Add corn kernels, 1 teaspoon coarse salt, and 3/4 teaspoon pepper. Sauté until corn is tender, about 5 minutes.
Remove from heat and mix in all herbs. Season to taste with salt. Transfer corn to bowl and serve.
Serves 6.
*Instead of using dill and tarragon, I increased the amount of assorted herbs to 1 1/2 cups.
Information
Category

Vegetables, Side Dishes

Cuisine

North American