 Although you may believe blueberries taste best eaten out of hand or in a scrumptious dessert, don't discount them in savory dishes until you've tried them. If you've never used blueberries in a sauce before, start with a straightforward recipe.
This one pairs just-grilled chicken cutlets with a fresh salsa made of blended blueberries, cilantro, basil, and, of course, jalapeños for a sweet-hot kick. The end result? Chicken never tasted so summery. Surprise your palate (in a good way!) when you
.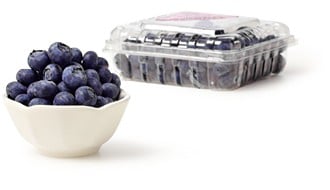 Grilled Chicken With Blueberry-Basil Salsa
Ingredients
1/2 tablespoon olive oil, plus more for brushing grill
2 jalapeno chiles
24 scallions
3 cups blueberries (about 1 pound), picked over and rinsed
1/2 small red onion, finely chopped
3 1/2 tablespoons freshly squeezed lime juice (2 to 3 limes)
1/2 teaspoon coarse salt
1/2 cup loosely packed basil leaves, very thinly sliced, plus whole leaves for garnish
1/2 cup loosely packed cilantro leaves, roughly chopped, plus whole leaves for garnish
2 pounds chicken cutlets
Pinch of cayenne pepper
Directions
Heat grill to medium-high; lightly oil it. Grill jalapenos until slightly charred and blistered, turning frequently, about 15 minutes. Using a paper towel, pull off stems and remove skins from chiles. Roughly chop flesh and seeds; set aside. Meanwhile, grill scallions, turning often, until soft and charred in spots, 3 to 4 minutes; set aside.
Place 2 cups blueberries in a food processor; pulse until coarsely chopped, about five times. Transfer to a medium bowl, and add onion, jalapenos, lime juice, and 1/4 teaspoon salt; stir to combine. Add basil, cilantro, remaining cup blueberries, and oil; stir to combine.
Sprinkle chicken with the remaining 1/4 teaspoon salt and the cayenne. Grill chicken until cooked through, 3 to 4 minutes per side. Place 4 grilled scallions on each plate, and top with chicken. Serve immediately, topped with a generous spoonful of blueberry salsa. Garnish with basil and cilantro leaves.
Serves 6.
Information
Category

Poultry, Main Dishes

Cuisine

North American