Sunday BBQ: Grilled Chorizo with Salsa These days, I don't have a lot of time on my hands, so I seek out recipes that are simple while still being gourmet. That's why I love this no-muss, no-fuss, Latin twist on the classic American hot dog. A grilled bun is topped with chorizo and finished with a salsa fresca. You can use either Spanish or Mexican chorizo, but if you like a smoky flavor, try the Spanish, which is made with smoked pork. To get grilling with the recipe,
.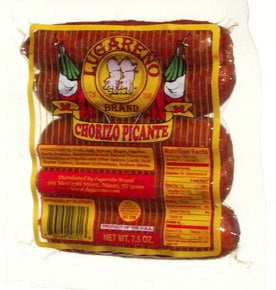 Ingredients
4 large plum tomatoes (about 1 pound), finely chopped
2 medium onions, finely chopped
2 tablespoons minced cilantro
1 garlic clove, minced
1 jalapeño, seeded and minced
2 tablespoons fresh lemon juice
Salt
12 crusty rolls, split
Extra-virgin olive oil, for brushing
6 small chorizo sausages (about 1 1/4 pounds)
Directions
In a medium bowl, mix the tomatoes, onions, cilantro, garlic, jalapeño, and lemon juice and season with salt.
Light a grill or preheat a grill pan.
Brush the rolls with olive oil and toast them on the grill or in the grill pan over moderate heat.
Grill the chorizo until browned, about 20 minutes.
Let the chorizo cool slightly, then cut each on the diagonal into 12 thin slices.
Top each roll half with 3 slices of chorizo and 1 tablespoon of salsa and serve.
Makes 12.
Information
Category

Main Dishes, Pork

Cuisine

South American