Sunday BBQ: Grilled Pork Chops and Onions Since I saw Yum's spinach stuffed pork chops, I've been craving thick cut chops. However, it's too hot to cook inside, so my pork will be hitting the grill. This recipe sounds succulent and scrumptious.
The pork is coated lightly with flour and served with a grilled lemon and onion mixture. Once grilled, the lemons are caramelized and juicy. To take a look at the recipe,
.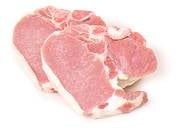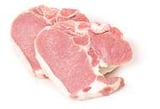 Ingredients
4 lemons, halved crosswise
3 medium red onions, cut into 1/2-inch-thick rounds
2 large Vidalia onions, cut into 1/2-inch-thick rounds
3 tablespoons extra-virgin olive oil, plus more for brushing
4 sprigs fresh rosemary
Coarse salt and freshly ground pepper, to taste
4 pork chops (each about 6 ounces, 1 1/2 inches thick), trimmed
All-purpose flour, for dusting
Directions
Preheat grill to medium-high.
Grill lemons, cut sides down, until marked, 5 minutes.
Brush onions with oil, and grill, flipping once, until soft, about 5 minutes per side. Grill rosemary until fragrant, 20 seconds.
Remove rosemary leaves from sprigs, and toss with juice from 2 grilled lemons, onions, oil, salt, and pepper.
Season pork chops with salt and pepper, and coat with flour, shaking off excess. Grill chops on the hottest part of the grill, flipping once, until marked, 1 to 2 minutes per side.
Move chops to edge of grill, and cover. Cook, flipping once, until a meat thermometer registers 145 degrees for medium, about 2 minutes per side.
Transfer to a plate. Let stand, covered, 10 minutes. Serve with remaining lemons and onion mixture.
Serves 4.
Information
Category

Main Dishes, BBQ

Cuisine

North American