 Since so many of you enjoyed the naanwich, I thought I'd provide you with another Indian inspired recipe. This one combines the typical tandoori seasonings with grilled chicken. The chicken needs to marinate for an hour, so get a head start on this dish early in the afternoon.
This recipe is great because it includes the ingredients and technique for the perfect side dish — a fragrant jasmine rice with grilled mango. Garnished with crunchy pine nuts and fresh cilantro, this is the perfect grilled chicken for exotic entertaining. To take a look at the recipe,
.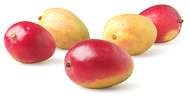 Ingredients
1/2 cup chopped fresh cilantro
1/2 cup chopped fresh parsley
4 garlic cloves
1 tablespoon ground cumin
1 tablespoon sweet paprika
1 tablespoon coarse kosher salt
1/2 teaspoon cayenne pepper
1/2 cup olive oil
1 cup plain whole-milk yogurt
1/4 cup fresh lemon juice
2 (2 1/2-pound) chickens, quartered
2 large ripe mangoes, peeled; 1 cut into 1/2-inch-thick slices, 1 cut into 1/2-inch cubes
2 cups jasmine rice
3 cups water
1/2 cup pine nuts, toasted
6 fresh cilantro sprigs
Directions
Purée first 7 ingredients in processor. With machine running, gradually add oil through feed tube and process until blended.
Transfer 1/4 cup herb mixture to small bowl; reserve.
Add yogurt and lemon juice to remaining mixture in processor and blend.
Place chicken in 13x9x2-inch glass baking dish. Pour yogurt mixture over chicken; turn to coat. Cover and refrigerate 1 hour.
Prepare barbecue (medium heat). Place chicken, skin side down, on grill. Cover and grill until chicken is cooked through, turning every 5 minutes, about 30 minutes total.
Grill mango slices 2 minutes per side; set aside.
Meanwhile, combine rice, 3 cups water, and reserved 1/4 cup herb mixture. Bring to boil.
Reduce heat to low; cover and simmer until tender, about 15 minutes. Remove from heat; let stand, covered, 5 minutes.
Fold in mango cubes and pine nuts.
Arrange chicken on large platter; garnish with grilled mango slices and cilantro sprigs. Serve mango jasmine rice alongside.
Serves 8.
Information
Category

Poultry, Main Dishes

Cuisine

Indian