Sunday Dinner: Baked Eggs with Spinach and Mushrooms If you love the taste — and the runny center — of fried eggs but don't like the "fried" part of the equation, you should think about baking the eggs. Baked eggs are delicious, simple to make, and wonderful for dinner. Remember eggs aren't just good at breakfast, they're divine any time of day! They make an exceptional vegetarian meal especially when paired with a medley of vegetables. A sprinkling of Parmesan cheese finishes off these baked eggs that are nestled on a bed of mushrooms and spinach.
To take a look at the recipe,
.
Baked Eggs with Spinach and Mushrooms
From Gourmet magazine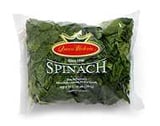 Ingredients
10 oz baby spinach leaves
1/4 cup finely chopped onion
1 garlic clove, finely chopped
2 tablespoons unsalted butter
5 oz mushrooms, thinly sliced (2 cups)
1/3 cup heavy cream
1/4 teaspoon salt
1/4 teaspoon black pepper
1/8 teaspoon freshly grated nutmeg
4 large eggs
2 tablespoons finely grated parmesan
Directions
Put oven rack in upper third of oven and preheat oven to 450°F.
Bring 1/2 inch water to a boil in a 10- to 12-inch ovenproof heavy skillet (not cast-iron), then add half of spinach and cook, turning with tongs, until wilted, about 30 seconds. Add remaining spinach and wilt in same manner, then cook, covered, over moderately high heat until spinach is tender, about 2 minutes.
Drain in a colander and cool under cold running water. Gently squeeze handfuls of spinach to remove as much liquid as possible, then coarsely chop.
Wipe skillet dry, then cook onion and garlic in butter over moderately low heat, stirring, until softened, 2 to 3 minutes. Add mushrooms and increase heat to moderate, then cook, stirring, until mushrooms are softened and have exuded liquid, about 3 minutes.
Stir in cream, salt, pepper, nutmeg, and chopped spinach and bring to a simmer.
Remove skillet from heat and make 4 large indentations in spinach mixture.
Break an egg into each indentation and bake, uncovered, until egg whites are set but yolks are still runny, 7 to 10 minutes. Lightly season eggs with salt and pepper, then sprinkle with cheese.
Serves 4.
Information
Category

Main Dishes, Eggs

Cuisine

North American