Sunday Dinner: Gnocchi with Pesto A few weeks ago, I decided that it was time to make my own gnocchi (potato dumplings). I'm not really sure what made me decide it, but somehow I knew it was time. Since I'd never made them before I decided to pick a recipe that I knew would be simple and yet tasty. So I pulled out Mark Bittman's trusty yellow primer, How to Cook Everything and got started. To see step by step pictures on how I made gnocchi with pesto, plus get a great basic recipe to try on your own,
Gnocchi
From How to Cook Everything by Mark Bittman
1 lb of potatoes
salt and freshly ground black pepper
1 cup of flour (more or less depending on need)
nutmeg, if desired
To start off, you're going to need a little bit of time, a little bit of patience and a pound of potatoes. Which sounds like a lot of potatoes, but is not really (I ended up using one really large potato). Next you'll need to thoroughly wash the potatoes (I used a vegetable brush to scrub them) and put them in a pot with salted water. Cover and cook until tender (it took me about 40 minutes).
When the potatoes are tender, drain and peel them while they're hot. This is not necessarily the easiest task, the potatoes are going to be hot. I'd suggest using a clean pot holder or kitchen towel to hold them.
Once peeled, put the potatoes through a ricer (if you don't have a ricer, mash them with a fork or potato masher). Put riced potatoes into a bowl and season with salt and pepper (at this point, I'd suggest adding some grated nutmeg too). Meanwhile bring a large pot of water with salt to boil.
Stir 1/2 cup of flour into potato bowl. Keep adding flour until the mixture forms an easy to handle dough (I found it easier to do this on a lightly floured cutting board). The amount of flour will depend on the potatoes. Not enough flour will make the gnocchi fall apart and too much will make them bland and flavorless. To make sure the consistency is correct, pinch off a piece of the dough and boil it to make sure it will hold its shape. If it does not, you'll need to add more flour.
When the dough is well-mixed, break off a piece and roll it into a rope about 1/2 thick. Cut into 3/4" lengths (I found it easier to use a pastry scraper to cut the dough). If you're feeling fancy, spin each piece off the tines of a fork to give your gnocchi the signature ridges. As you finish, place each piece on a piece of wax paper in one layer.
Once you have the pieces made, gently transfer them to the pot of boiling water and stir. When the gnocchi rise to the surface (about a minute), they're done. Remove with slotted spoon.
Place into bowl and pesto over them. Mix and enjoy!
Freeze any remaining gnocchi in airtight containers/bags. They will last 4-6 weeks. You will need to first freeze them on a sheet covered in plastic wrap so they are not touching and then transfer to an airtight container. You do not need to thaw before using remaining gnocchi.
The recipe says it serves 2 main course meals or 4 first course. I had enough for 3 people. It's also a really easy recipe to double.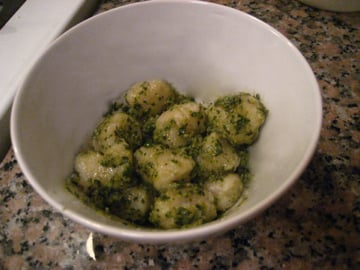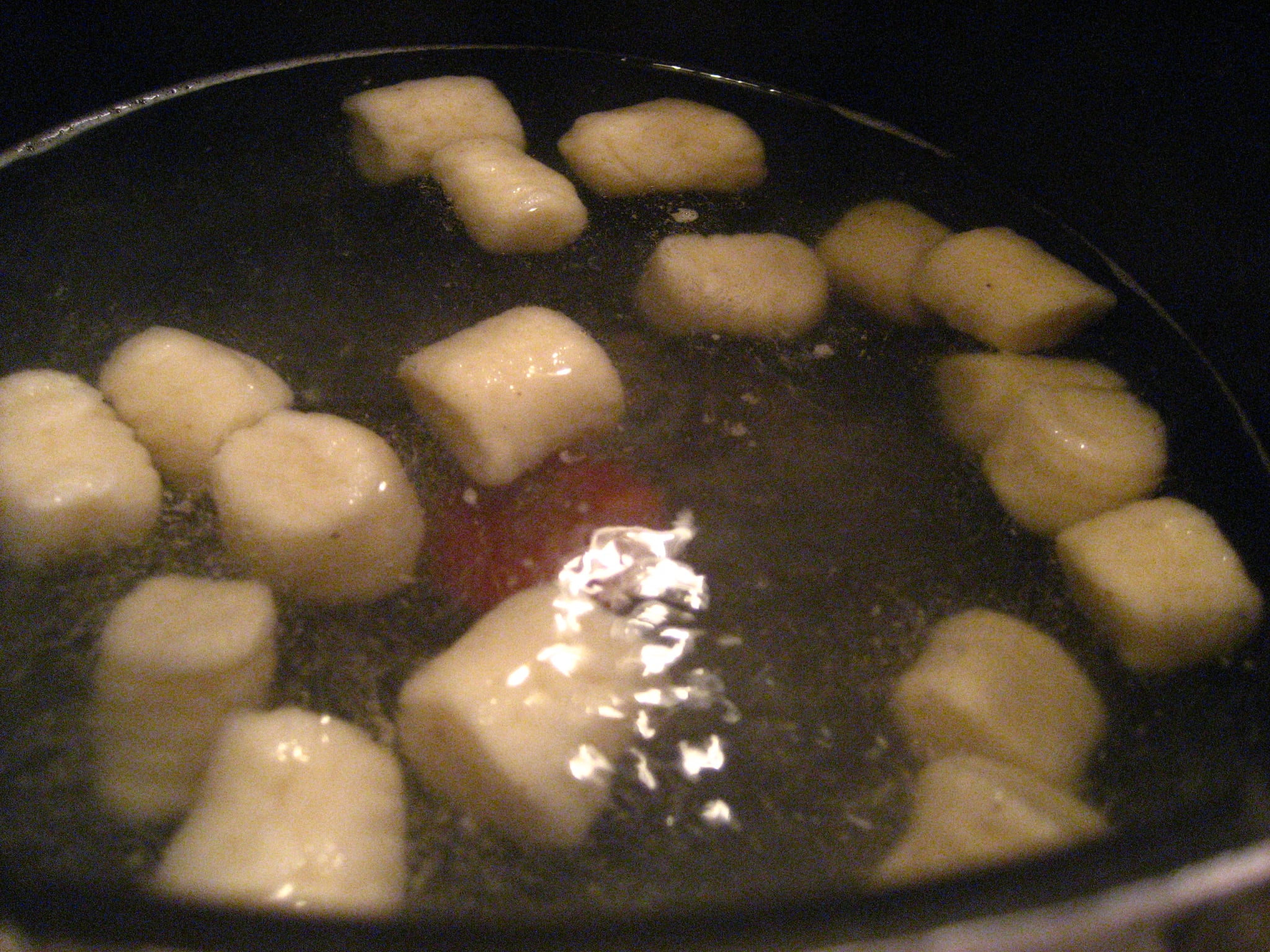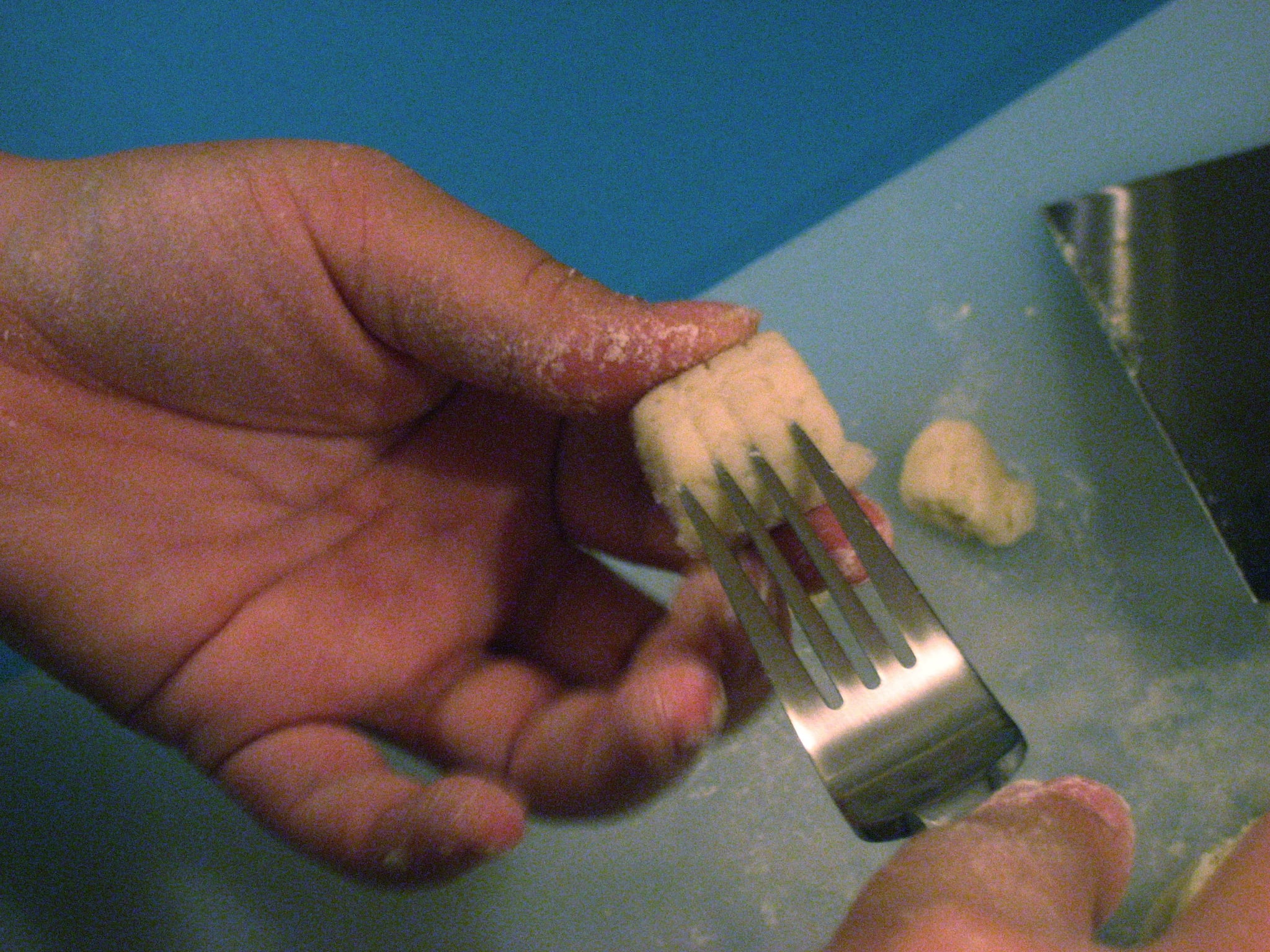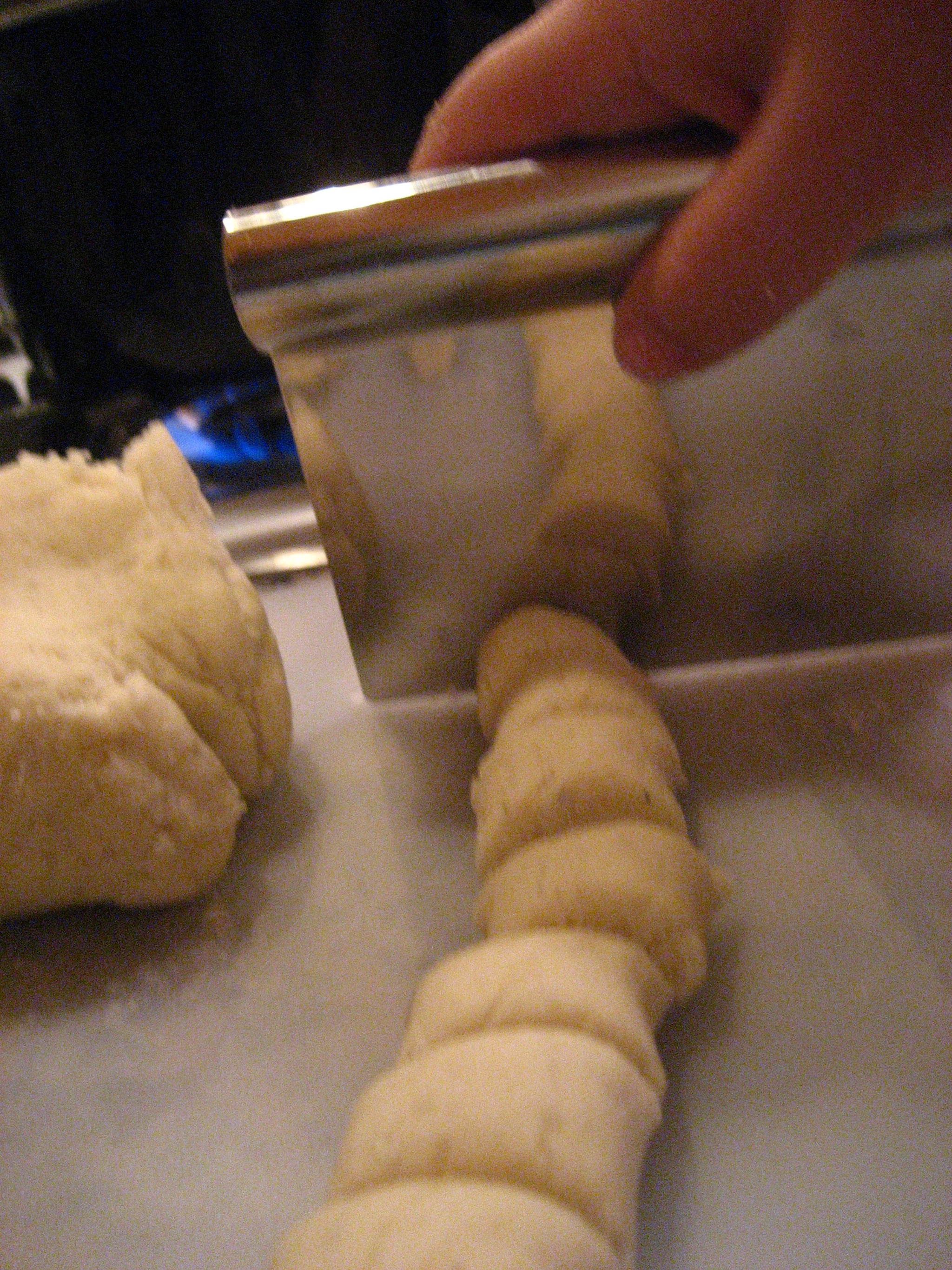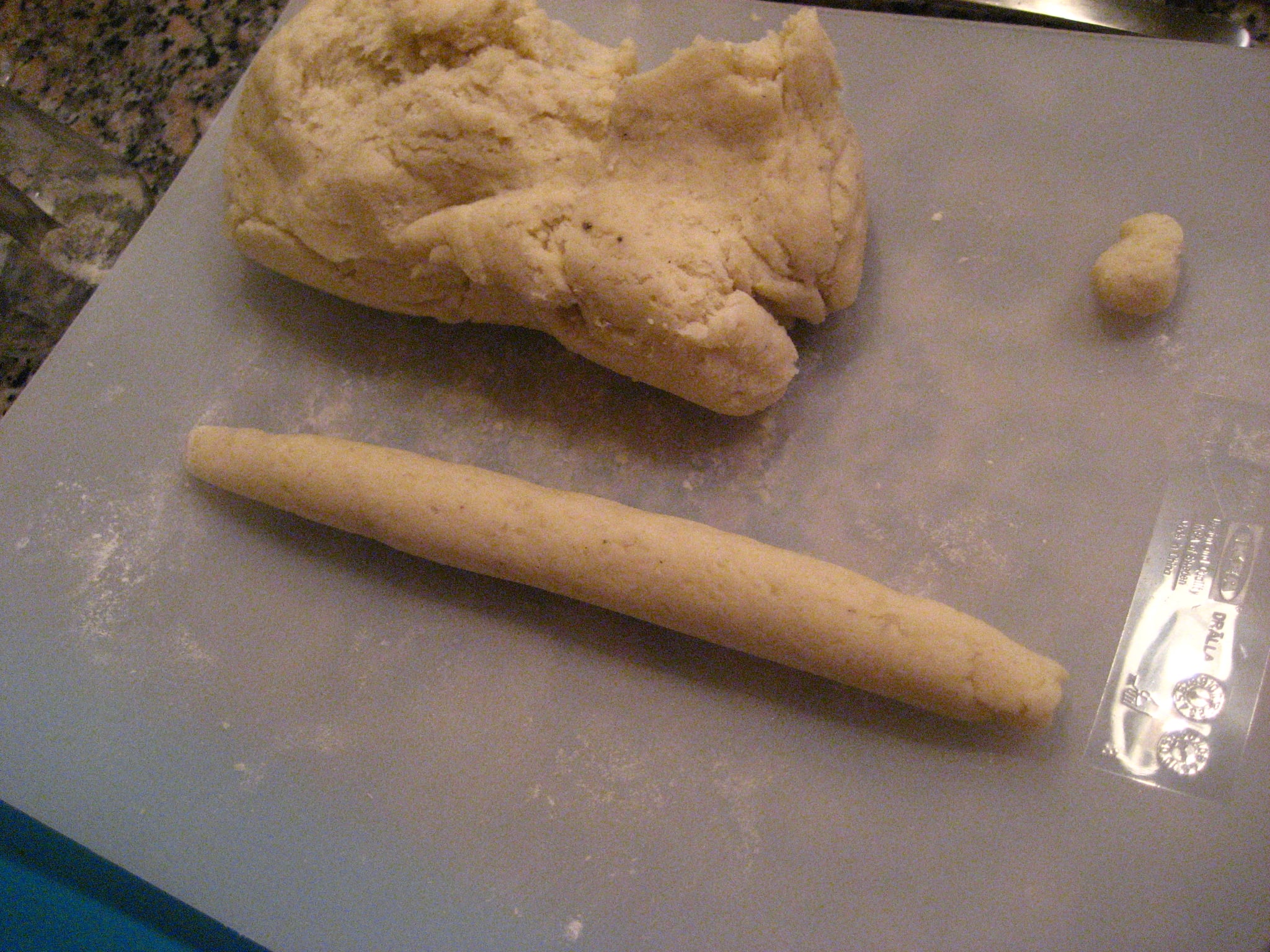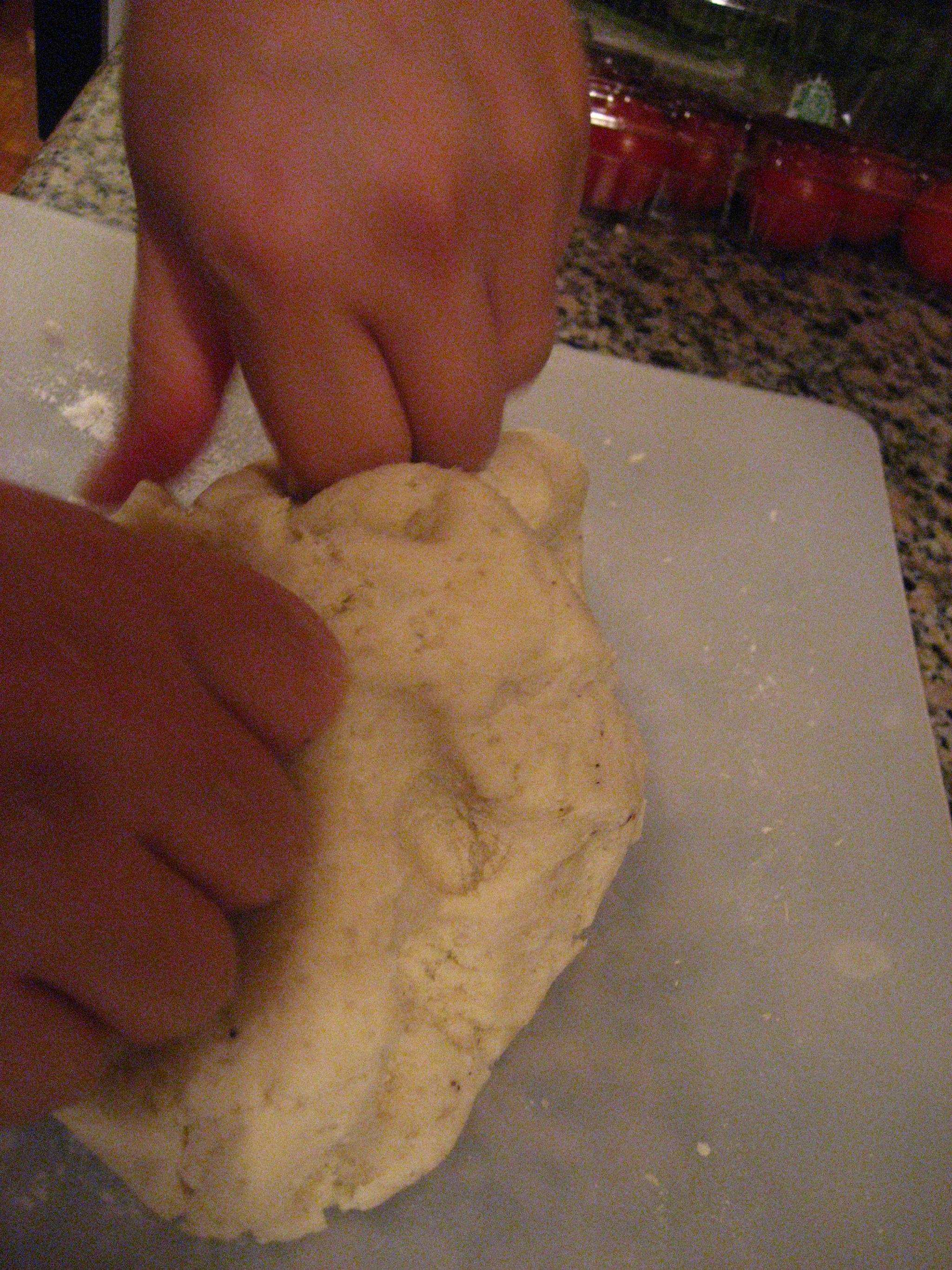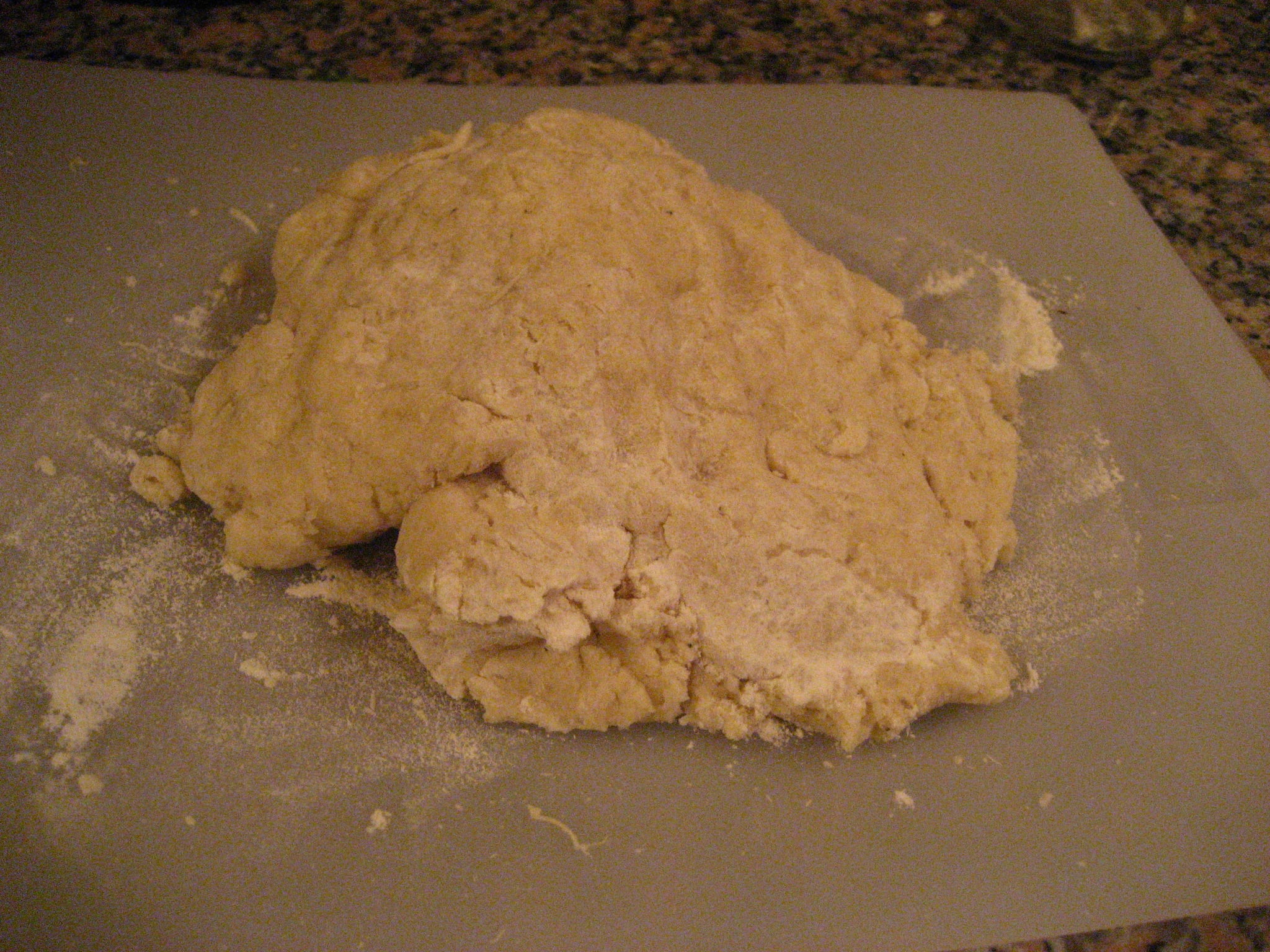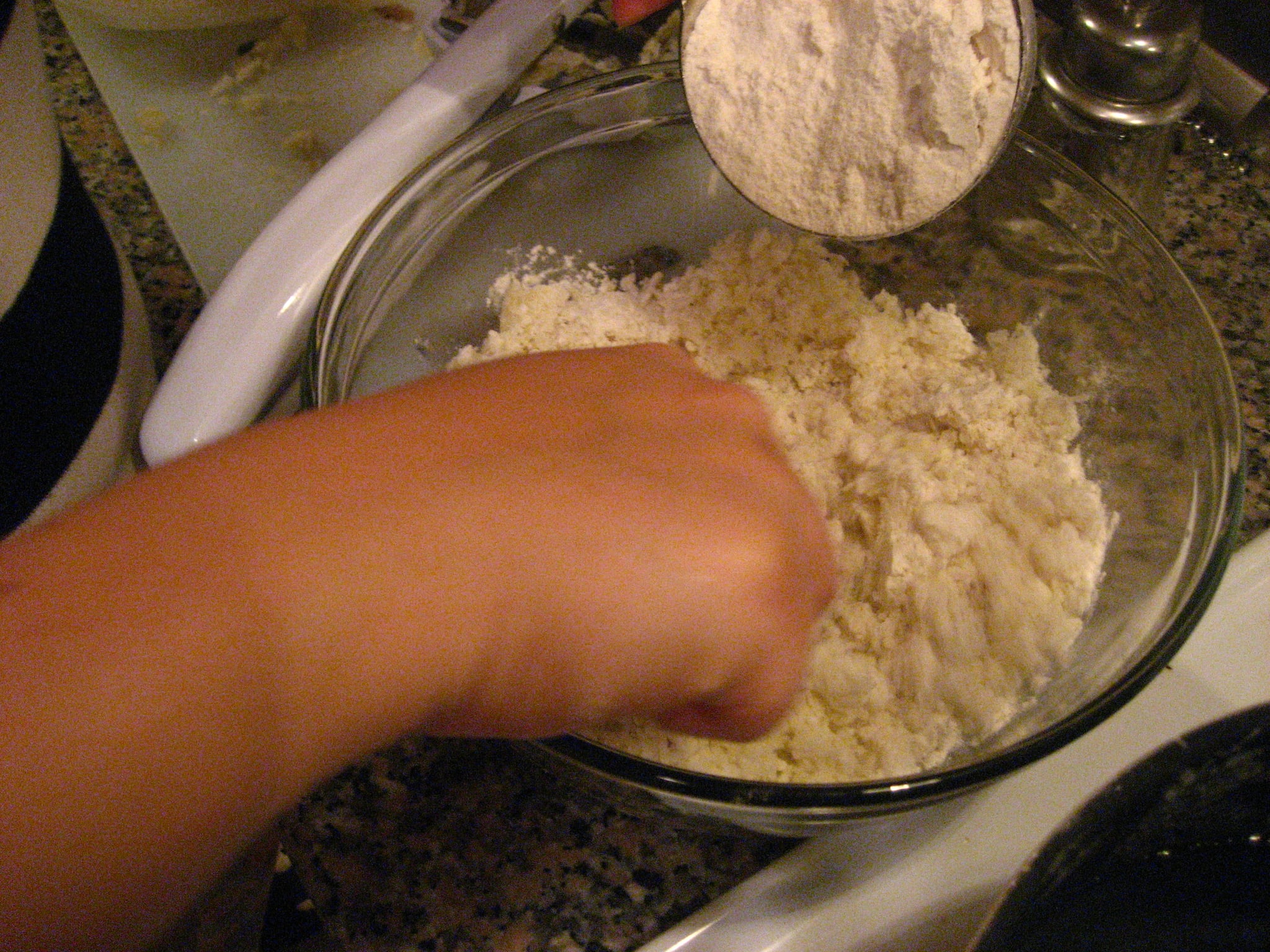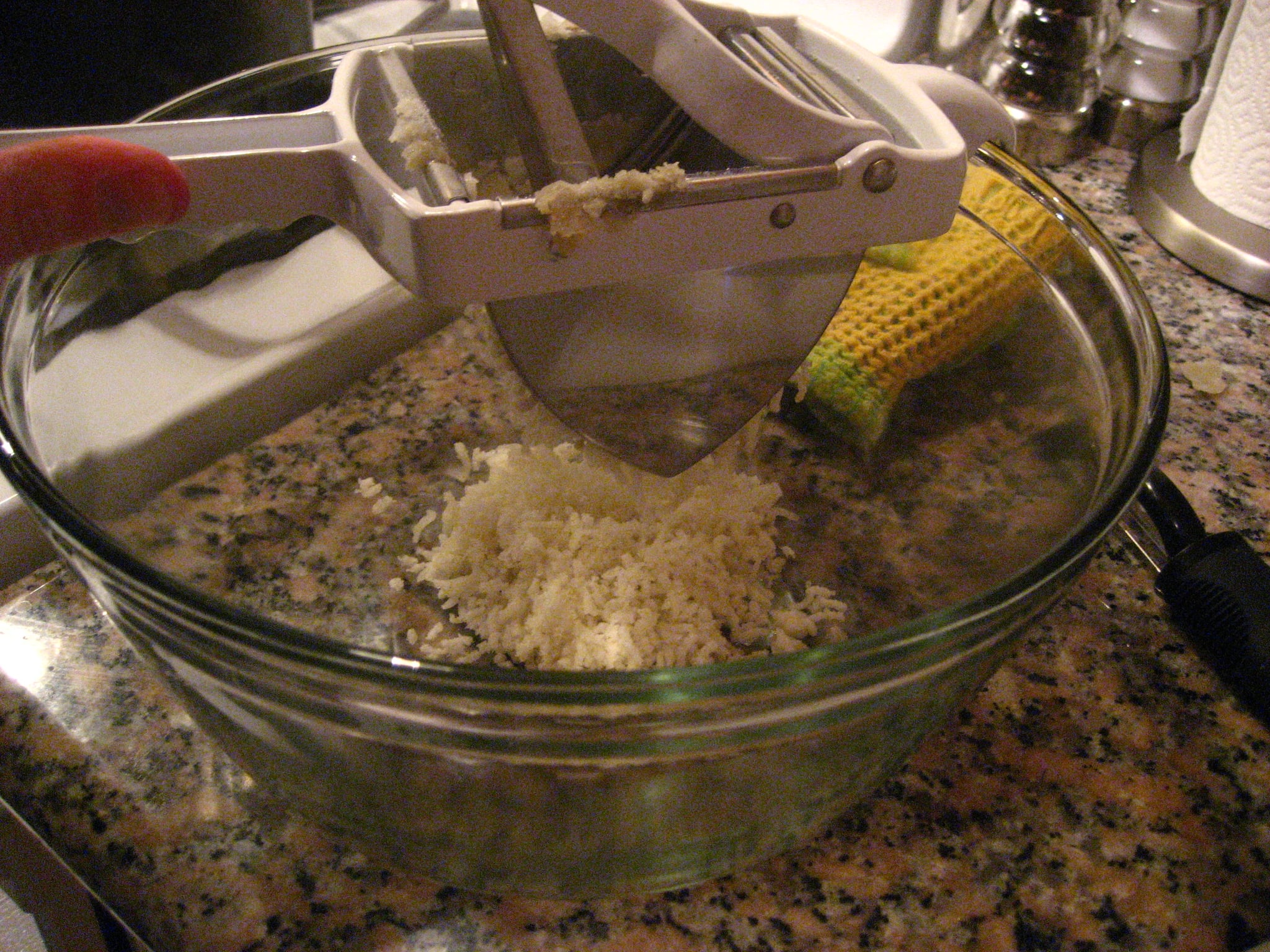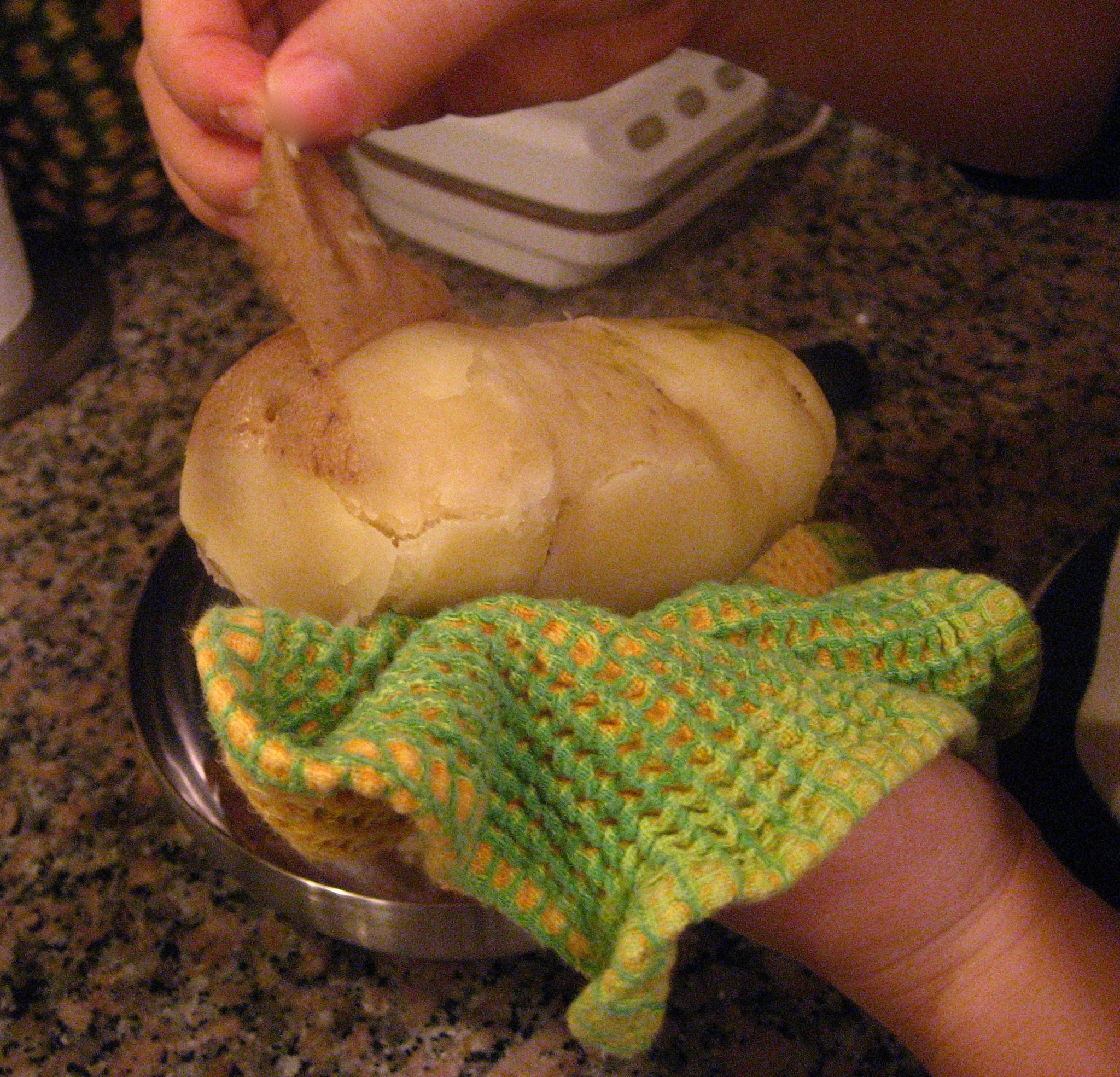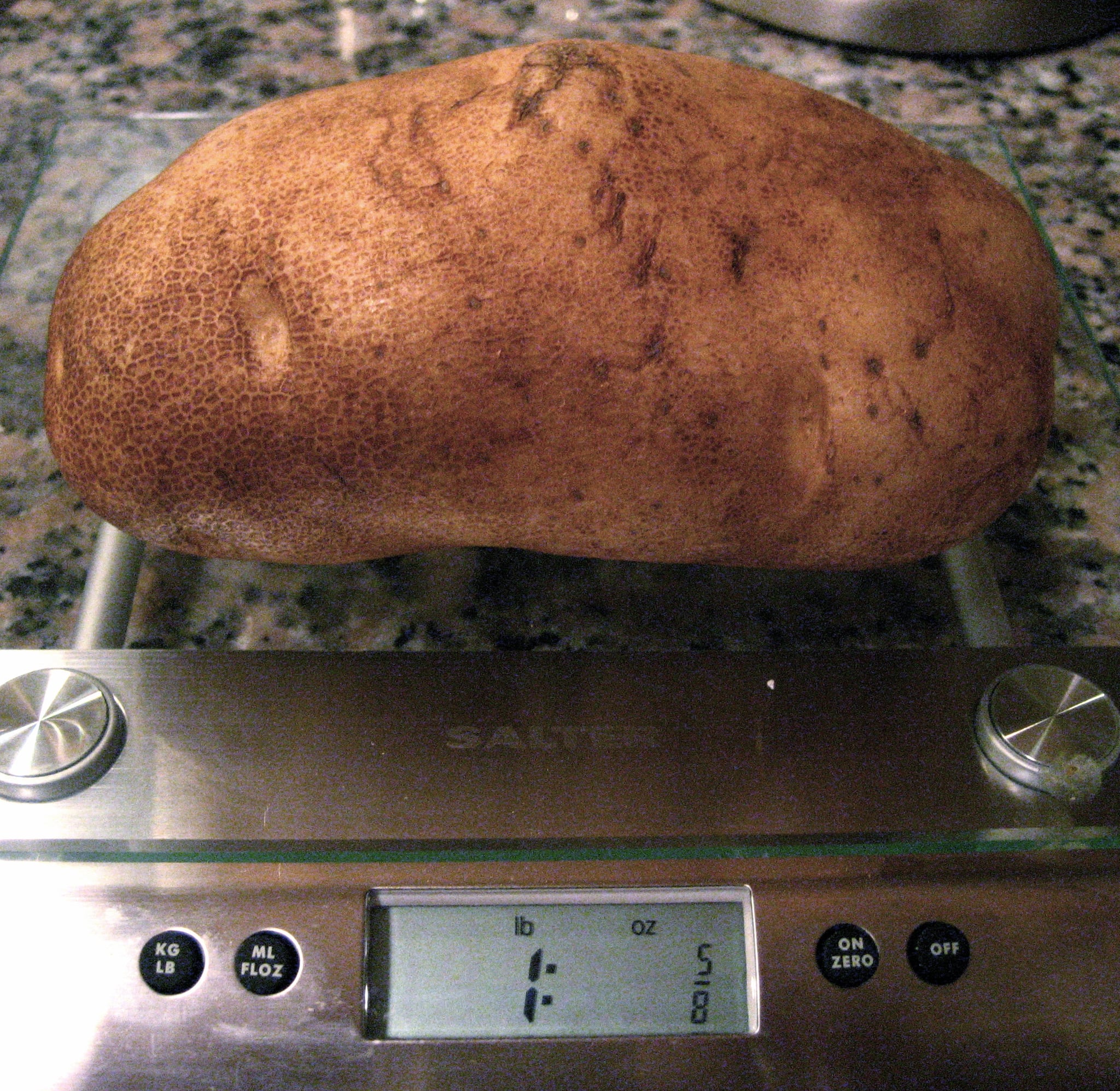 Top with a quick and easy pesto.

Jimmy's Quick Pesto
3 tbsp Pine Nuts
3 cups Basil
3 cloves garlic
Olive Oil (about 1/2 cup)
1/2 cup Finely Grated Parmesan Cheese (more or less if desired)
salt and freshly ground black pepper
Toast pine nuts - be careful not to burn them.

Put pine nuts, garlic and basil into food processor. Pulse several times.
Turn food processor on and start pouring in oil until desired consistency is achieved.
Add cheese, pulse a few times until blended.
Mix in salt and pepper to taste.
This is a quick and simple pesto recipe. You may want to grind the pine nuts and garlic before adding basil and oil. You can serve this on any type of pasta, or as a topping on bread or pizza. Also, be sure to check out reader Crispet1's HUGE gnocchi family affair (eight potatoes!). Great photos of what she's dubbed gnocchi mania.