Sunday Dinner: Grilled Pork Tenderloins with Jamaican Spices Pork tenderloin is a fabulous cut of meat. It's easy to flavor and cooks in a relatively short amount of time. Like chicken, it can be seasoned with just about anything. In this recipe, the pork is coated with a fragrant Jamaican style-mixture. Garlic, lime juice, fresh thyme, ginger, and ground spices are combined to make the rub that is massaged into the meat. This dish would be wonderful at an informal dinner party. Serve with plantains or rice for a Caribbean style feast.
To get the recipe please,
.
Grilled Pork Tenderloins with Jamaican Spices
From Food and Wine magazine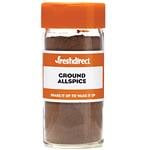 Ingredients
3 garlic cloves, smashed
2 tablespoons fresh lime juice
2 tablespoons extra-virgin olive oil
2 tablespoons thyme leaves
1 large shallot, minced
One 1-inch piece of fresh ginger, minced
1/2 teaspoon cinnamon
1/2 teaspoon freshly grated nutmeg
1/2 teaspoon ground allspice
1/2 teaspoon ground coriander
1/2 teaspoon salt
1/2 teaspoon freshly ground pepper
Directions
Light a grill. In a bowl, combine the garlic, lime juice, olive oil, thyme, shallot, ginger, cinnamon, nutmeg, allspice, coriander, salt and pepper. Add the pork and turn until well coated with the spice mixture. Let stand for 15 to 20 minutes.
Grill the pork over a medium-hot fire or in a preheated grill pan for about 10 minutes per side, or until an instant-read thermometer registers 140° for medium.
Transfer the meat to a platter, cover loosely with foil and let rest for 5 minutes. Slice the pork and serve.
Serves 4.
Information
Category

Main Dishes, Pork

Cuisine

Other