 Turkey is such a wonderful and delicious meat that it shouldn't only be cooked on Thanksgiving. Fresh turkey breasts — which roast or grill much quicker than a whole turkey —can be found at grocery stores year round, so why not make it tonight?
To maximize flavor this turkey is brined, before being rubbed with a fragrant mixture of spices. A scrumptious sour orange sauce accompanies the moist turkey meat. To take a look at this recipe,
.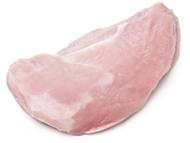 Spice Rubbed Turkey Breast With Orange Sauce
From Bobby Flay
Ingredients
2 quarts cold water
1/2 cup kosher salt
1/2 cup granulated sugar
1 boneless turkey breast, 4 to 5 pounds
Spanish Spice Rub, recipe follows
Vegetable oil
4 oranges, halved
Sour Orange Sauce, recipe follows
Flat-leaf parsley leaves
Directions
Place water in a large bowl or plastic container. Whisk in salt and sugar and let sit 5 minutes to dissolve. Add the turkey breast, cover, and let sit in the refrigerator for 45 minutes.
Heat grill to medium-high. Remove turkey from the brining solution, rinse well under cold water and pat dry with paper towels.
Rub the skin side of the turkey with the rub. Using tongs, dip paper towels into the oil and oil the grates of the grill.
Place the turkey on the grill, rub side down and grill until slightly charred and a crust has formed, about 4 to 5 minutes.
Reduce the heat of the grill to medium, turn the turkey over and continue cooking, with the lid closed for 30 to 40 minutes or until an instant-read thermometer inserted into the center of the breast registers 155 degrees F (the temperature will continue to rise off the heat). Remove from the heat, loosely tent with foil and let rest 10 minutes before slicing. Slice into 1/2-inch thick slices.
While turkey is resting, brush the cut side of oranges with oil and place cut side down on the grill and grill until slightly charred.
Ladle sour orange sauce onto a platter and top with the sliced turkey. Garnish with grilled oranges and parsley leaves.
Serves 8.
Spanish Spice Rub:
6 tablespoons Spanish paprika
2 tablespoons cumin seeds, ground
1 tablespoon mustard seeds, ground
4 teaspoons fennel seeds, ground
4 teaspoons coarsely ground black pepper
2 teaspoons kosher salt
Whisk together in a bowl.
Sour Orange Sauce:
2 tablespoons olive oil
1 Spanish onion, chopped
4 cloves garlic, coarsely chopped
2 cups fresh orange juice
1 tablespoon orange zest
1/4 cup fresh lime juice
1 cup honey
8 cups homemade chicken stock
2 tablespoons cold unsalted butter, cut into pieces
Salt and freshly ground black pepper
2 tablespoons chopped fresh flat-leaf parsley
Heat oil in a medium saucepan over medium-high heat.
Add the onions and cook until soft. Add the garlic and cook for 1 minute. Add the orange juice, lime juice, zest, and honey and cook until reduced by half
Add the chicken stock and cook until thickened to a sauce consistency and reduced to about 2 cups.
Strain the sauce into a bowl, whisk in the butter and season with salt and pepper, to taste. Stir in the parsley and serve hot.
Information
Category

Poultry, Main Dishes

Cuisine

North American