Sunday Slow Cooker: Chicken and Sweet Potato Stew Now that Summer's winding down and Fall is officially here, I'll be featuring a new series called Sunday Slow Cooker, with a set of easy-to-make one-pot recipes.
Today's hearty recipe calls for sweet potatoes and slow-cooked chicken thighs that'll be falling-off-the-bone tender by the time you return to the crockpot hours later. Alternatively, you can opt for thighs that have already been de-boned, or even boneless, skinless chicken breast. To get this Fall recipe, read more.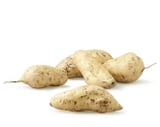 Ingredients
6 bone-in chicken thighs, trimmed of skin and fat
2 pounds sweet potatoes, peeled and cut into spears
1/2 pound white button mushrooms, thinly sliced
6 large shallots, peeled and halved
4 cloves garlic, peeled
1 cup dry white wine
2 teaspoons chopped fresh rosemary or 1/2 teaspoon dried rosemary, crushed
1 teaspoon salt
1/2 teaspoon freshly ground pepper
1 1/2 tablespoons white wine vinegar
Directions
Place chicken, sweet potatoes, mushrooms, shallots, garlic, wine, rosemary, salt and pepper in a 6-quart slow cooker; stir to combine.
Put the lid on and cook on low until the potatoes are tender, about 5 hours.
Before serving, remove bones from the chicken, if desired, and stir in vinegar.
Serves 6.
285 calories; 6 g fat; 50 mg cholesterol; 35 g carbohydrate; 17 g protein; 5 g fiber; 519 mg sodium
Information
Category

Poultry, Main Dishes

Cuisine

North American