Sunday Slow Cooker: Pork and Slaw Barbecue Rolls Tonight I'm forgoing my usual soups, stews, and chowders for a relaxed Southern favorite: barbecue. This morning I'll literally be dropping my pork into the slow cooker, pouring in a few basic ingredients, and in six hours, the sweet aroma of North Carolina-style pulled pork will be wafting out of my kitchen. The fall-apart tender finished product, with its intensely tangy sauce, will no doubt become a family favorite. To get the recipe,
.

Pork and Slaw Barbecue Rolls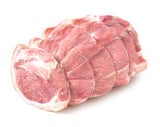 Ingredients
Coleslaw
3/4 cup cider vinegar
2 tablespoons packed brown sugar
1/2 teaspoon salt
1/2 teaspoon crushed red pepper
1/4 teaspoon ground black pepper
16 kaiser rolls, split and toasted
1 4-5 lb. pork shoulder roast/shoulder blade Boston roast (Boston butt)
Directions
Place meat in a 4- to 6-quart slow cooker. In a small bowl combine vinegar, brown sugar, salt, red pepper, and black pepper. Pour over meat.
Cover; cook on low-heat setting for 10 to 12 hours or on high-heat setting for 5 to 6 hours.
Transfer meat to a cutting board; reserve cooking juices. When cool enough to handle, cut meat off bones and coarsely chop.
In a medium bowl combine meat and as much of the juices as desired to moisten. Arrange meat on roll bottoms. Add roll tops. Serve with coleslaw.
Makes 16 servings.
Nutritional Information: Calories 272, Total Fat (g) 6, Cholesterol (mg) 41, Sodium (mg) 563, Carbohydrate (g) 34, Total Sugar (g) 3, Fiber (g) 1, Protein (g) 18, Vitamin C (DV%) 3, Calcium (DV%) 6, Iron (DV%) 16
Information
Category

Main Dishes, Pork

Cuisine

North American