Sunday Slow Cooker: Vegetable Casserole This casserole of polenta and vegetables uses canned beans and store-bought pesto to cut down on preparation time, but the slow cooker does all the hard work.
The recipe calls for an Italian cheese blend and specific vegetables, but feel free to mix things up with an American or Mexican cheese blend and different beans and vegetables, if you like.
To learn more about this easy-to-make, one-pot meal, read more.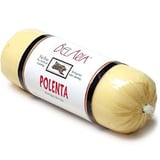 Ingredients
2 19-oz. cans cannellini beans
1 19-oz. can garbanzo or fava beans
1/4 cup purchased basil pesto
1 medium onion, chopped
4 cloves garlic, minced
1-1/2 tsp. dried Italian seasoning, crushed
1 16-oz. pkg. refrigerated cooked plain polenta cut in 1/2-inch-thick slices
1 large tomato, thinly sliced
1 8-oz. pkg. finely shredded Italian cheese blend (2 cups)
2 cups fresh spinach
1 cup torn radicchio
Directions
Rinse and drain beans.
In large bowl combine beans, 2 tablespoons of pesto, onion, garlic, and Italian seasoning.
In 4- to 5-quart slow cooker layer half of bean mixture, half of polenta, and half of cheese. Add remaining beans and polenta.
Cover; cook on low heat setting for 4 to 6 hours (or on high heat setting 2 to 2-1/2 hours).
Add tomato, remaining cheese, spinach, and radicchio.
Combine remaining pesto and 1 tablespoon water. Drizzle pesto mixture on casserole.
Let stand, uncovered, 5 minutes.
Makes 8 servings.
Calories 360, Total Fat (g) 12, Saturated Fat (g) 6, Cholesterol (mg) 26, Sodium (mg) 926, Carbohydrate (g) 46,Total Sugar (g) 8, Fiber (g) 10, Protein (g) 21, Vitamin C (DV%) 16, Calcium (DV%) 36, Iron (DV%) 19
Information
Category

Main Dishes, Beans

Cuisine

North American