Sunday Slow Cooker: Wild Mushroom Dip Normally, I reserve my slow cooker for making main courses. But since we're in the midst of the holiday party season, I thought I'd share a dip that I'll be making for a bash this weekend.
I love the idea of pouring a bunch of ingredients into a pot, not really thinking about it, and coming back later to find a creamy, savory dip that will comfort even the toughest of crowds. To make this vegetarian dip for a party,
.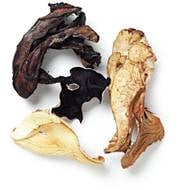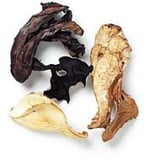 Ingredients
2 cups dry white wine such as Chardonnay
2 .5 oz. containers dried wild mushrooms, mixed variety
2 8 oz. packages cream cheese, cut into 1-inch cubes
2 10-3/4 oz. cans condensed cream of mushroom soup
2 cups shredded mozzarella cheese
1 tsp. dried tarragon
1 tsp. salt
1/2 tsp. ground black pepper
Directions
In a microwave-safe bowl, heat white wine on high-heat setting for 3 to 5 minutes. Place dried mushrooms in wine and let sit for 10
minutes to rehydrate.
With a slotted spoon, transfer mushrooms to a food processor, reserving liquid. Cover and process until the consistency of coarse paste.
In a large bowl combine pureed mushroom, 2/3 cup reserved
mushroom liquid, and remaining ingredients. Mix thoroughly and pour in a 4-quart slow cooker.
Cover and cook on low-heat setting for 3 to 4 hours, stirring once halfway through.
Makes 12 servings.

Nutritional Info: Calories 270, Total Fat 20g, Saturated Fat 11g, Cholesterol 56 mg, Sodium 751 mg, Carbohydrate 8g, Fiber 0g, Protein 8g
Information
Category

Dips, Appetizers

Cuisine

Mexican