Surprise Mom With Strawberry Mascarpone Tart Last Summer I was seduced by Gourmet's strawberry pie, and this year the magazine enticed me with a strawberry mascarpone tart with port glaze. This scrumptious dessert is surprisingly easy to put together — especially if you make the dough (like I did) in a food processor. Although I ended up purchasing a new pan, the delightful combination of crisp buttery crust, smooth creamy filling, plump juicy berries, and thick rich sauce was worth it. The completed tart is light and only slightly sweet, making it the perfect finish to a Mother's Day celebration. If you're traveling, make each element of the tart at home and assemble upon arrival at your destination. To look at the divine recipe,
.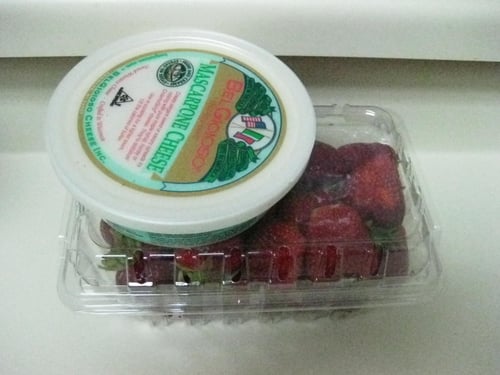 Strawberry Mascarpone Tart With Port Glaze
From Gourmet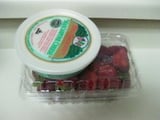 Ingredients
For tart shell:
1 1/4 cups all-purpose flour
3 tablespoons granulated sugar
Rounded 1/4 teaspoon salt
7 tablespoons unsalted butter, cut into 1/2-inch pieces
1 large egg yolk
1/2 teaspoon pure vanilla extract
1/2 teaspoon fresh lemon juice
3 tablespoons cold water
For filling:
1 1/2 pounds strawberries (about 1 1/2 quarts), trimmed and halved lengthwise
1/3 cup granulated sugar
3/4 cup ruby Port
1 pound mascarpone (about 2 cups)
1/4 cup confectioners sugar
1 teaspoon fresh lemon juice
1/2 teaspoon grated lemon zest
3/4 teaspoon pure vanilla extract
A 10-inch fluted tart pan with removable bottom; pie weights or dried beans
Directions
Make tart shell: blend together flour, sugar, salt, and butter in a bowl with your fingertips or a pastry blender (or pulse in a food processor) just until mixture resembles coarse meal with some roughly pea-size butter lumps.
Beat together yolk, vanilla, lemon juice, and water with a fork, then drizzle over flour mixture and stir with fork (or pulse) until mixture comes together.
Gently knead with floured hands on a lightly floured surface until a dough forms, then gently knead 4 or 5 times. Press into a 5-inch disk.
Place in center of tart pan and cover with plastic wrap. Using your fingers and bottom of a flat-bottomed measuring cup, spread and push dough to evenly cover bottom and side of pan. Prick bottom of tart shell all over with a fork and freeze until firm, about 10 minutes.
Preheat oven to 375°F with rack in middle. Line tart shell with foil and fill with pie weights. Bake until side is set and edge is pale golden, about 20 minutes.
Carefully remove foil and weights and continue to bake until shell is deep golden all over, about 20 minutes more. Cool in pan, about 45 minutes.
Make filling while tart shell cools: stir together strawberries and granulated sugar in a bowl and let stand, stirring occasionally, 30 minutes.
Strain in a sieve set over a small saucepan, reserving berries. Add Port to liquid in saucepan and boil until reduced to about 1/4 cup, 10 to 15 minutes. Transfer to a small bowl to cool slightly.
Meanwhile, whisk together mascarpone, confectioners sugar, lemon juice, zest, vanilla, and a pinch of salt until stiff.
Assemble tart: spread mascarpone mixture evenly in cooled tart shell, then top with strawberries. Drizzle Port glaze all over tart.
Serves 8-10.
Make ahead: Tart shell can be baked 1 day ahead and kept at room temperature.
Information
Category

Desserts, Pies/Tarts