Sweet Bacon and Pear Pizza Recipe
Fast & Easy Dinner: Sweet Bacon and Pear Pizza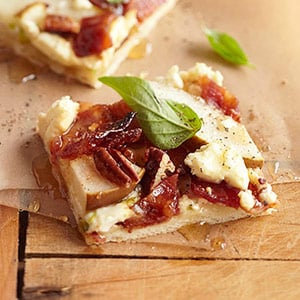 In the Fall, when the pears are plentiful, I enjoy experimenting with new pear preparations. Doesn't this one for a pear pizza sound scrumptious and interesting? It's not a sweet dessert pie, but a savory entree that makes for a delicious dinner. The other toppings include brown-sugar-coated bacon, cream cheese, green onions, feta cheese, and fresh basil. Each ingredient provides a different texture that gives the pizza depth, complexity, and richness. Sliced into smaller pieces, it would be an excellent appetizer.
I'm betting this recipe's a winner, so learn how it's made after the jump.
Sweet Bacon and Pear Pizza
Ingredients
Nonstick cooking spray
5 slices bacon
1/4 cup packed brown sugar
1/4 tsp. chili powder
1 pear, cored and sliced
1 tsp. lemon juice
1/2 of an 8-oz. tub cream cheese
1/4 cup chopped green onions
1 12-inch Italian bread shell (Boboli) or other pizza dough of your liking
1/3 cup chopped pecans
1/3 cup crumbled feta cheese
1/4 cup fresh basil
Honey (optional)
Directions
Preheat oven to 400 degrees F. Line bottom of rimmed baking pan with foil and spray with cooking spray. Arrange bacon slices on pan; set aside. In small bowl stir together brown sugar and chili powder. Generously sprinkle brown sugar mixture on bacon slices. Bake for 15 minutes or until browned; remove and set aside.
Increase oven temperature to 450 degrees F.
In small bowl toss together pear slices and lemon juice; set aside.
In medium bowl stir together cream cheese, onions, and black pepper to taste. Place pizza crust on clean baking sheet. Spread cream cheese mixture on crust.
Chop bacon and evenly sprinkle on cheese mixture. Arrange pear slices on bacon. Top with pecans and feta cheese.
Bake for 12 to 14 minutes or until cheese begins to brown. Sprinkle with basil and pass honey for drizzling.
Serves 4-6.
Information
Category

Main Dishes, Pizza

Cuisine

North American