Sweet Chili Lime Tofu Recipe
Sweet Chili Lime Tofu
YumSugar member girlA is always happy to share her wonderful recipes. This time she makes sweet chili lime tofu in The Dairy-Free Diva Recipe Exchange cooking group.
This recipe is tofu-licious! Even though the recipe has a long list of ingredients and you'll need 3 pans and a bowl, it was extremely easy and it was done in about 25 minutes. I recommend doubling the sauce. As it is, it makes a great glaze for the tofu, but I would have liked it a little more saucy. It made about 5 servings and as I was eating the final pieces of tofu, I was thinking that these would be great toothpicked (minus quinoa and kale) and served as a hot appetizer. Yum!
Get her recipe here.
Sweet Chili Lime Tofu
Vegan Yum Yum
Ingredients
Quinoa:
3/4 C quinoa, rubbed/rinsed, drained
Zest from one lime, divided in half and slice lime for garnish (use 1/2 the zest)
2 bruised cardamon pods (optional–I used a dash or two of dried cardamon)
1/4 tsp salt
1 tiny cinnamon stick (optional)
1-1/3 C water
Sweet Chili Lime Sauce:
3 Tbs sugar
3 Tbs tamari
1-3/4 Tbs lime juice
1/2 zest of the lime
1/2 tsp red chili flakes (I didn't have this, so I used 1/2 tsp of Ancho chili pepper)
1 clove garlic, minced
1/4 tsp salt
4 mint leaves, sliced thinly
The Greens:
1 bunch collard greens, washed with middle veins removed (I used kale)
2-3 Tbs water
1 tsp lime juice
1 pinch salt
The rest:
14-oz extra-firm tofu, drained and pressed
Lime slices for a garnish (optional)
Mint leaves for a garnish (optional)
Directions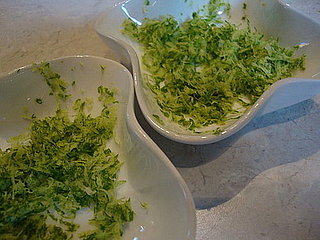 Combine the quinoa, 1/2 the lime zest, cardamon, cinnamon stick, salt, and water in a saucepan. Bring to a boil, then cover and reduce heat to low. Cook for 20 minutes, then remove from heat and don't remove the lid. Let steam for 10 minutes.

Sweet chili lime sauce: Whisk together the sugar, tamari, lime juice, lime zest, red chili flakes, garlic,  salt, and mint until the sugar and salt and dissolved. Set aside.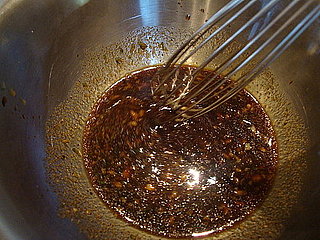 Tofu: Slice the tofu into 7-8 rectangles: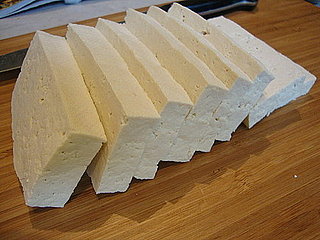 Then cut each rectangle in half to make two squares, and then each square into four triangles: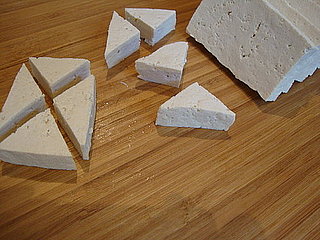 I sauteed the tofu in a dry skillet for about 10 minutes on each side. The recipe says to add it a "well-seasoned" skilled. What in the hell does that mean?! If anyone knows, please let me know.
Add the chili lime sauce and stir to coat the tofu. Turn off the heat.  The sauce will bubble up, reduce, and form a glaze.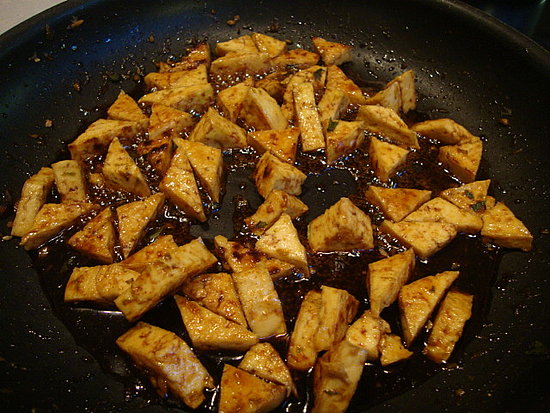 While this is happening, slice up the kale. In a wok (which I didn't have, so I used a small skillet) add water, lime juice, and salt. Cover with a lid and steam  until tender.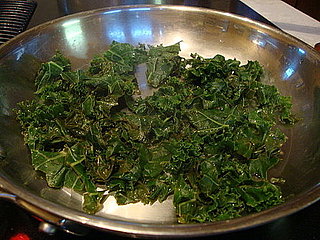 To serve, layer plate with  a scoop of quinoa, kale, then tofu. Garnish with lime slices and mint. Enjoy!
Information
Category

Main Dishes, Tofu
Have you come across — or come up with your own! — delicious dairy-free creations lately? If so, be sure to post them to The Dairy Free Diva Recipe Exchange. It's easy to upload your photos and a description of the experience, and it could be featured on YumSugar! If you're new to the YumSugar Community, here's a detailed guide to posting to groups.