Sweet Frozen Snack Ideas
Freeze These 3 Sweet Treats
Although candy, fruit, and yogurt are sweet as can be, freezing them adds an unexpected twist. There's something about the icy texture that adds another element for your taste buds to enjoy. When your freezer looks sparse and ice cream is nowhere to be found, turn to these snack ideas that we daresay taste better frozen.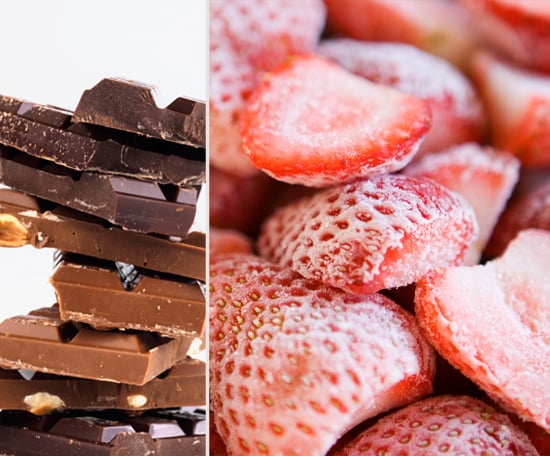 Fruit
The next time you go to prep and wash your favorite fruit, freeze some of it. Pat the fruit dry, and line a small cookie sheet with parchment paper. Then spread the fruit out in a single layer so that it freezes quickly (and you don't end up with a giant fruit block). Once it's frozen, transfer the pieces to a plastic baggie. Juicy fruits like grapes are like bite-size popsicles with a snappier texture. Toss frozen berries into the blender for a fruit-filled smoothie or frozen cocktails like strawberry margaritas. Ripe bananas are creamy and sweet, but at room temperature, they can be too mushy. Freeze bite-size pieces and dip them in peanut butter or chocolate, and if you have more time, try these frozen nibblers.
Candy
Sticking some of your favorite treats in the freezer completely changes their texture. Rich dark chocolate candies like peppermint patties develop a cool, creamy burst, while a Kit Kat's crisp crunch is further enhanced when frozen. Many are addicted to the crumbly, crunchiness of frozen M&Ms, but try other varieties like peanut butter M&M's, too. Not a big chocolate fan but craving something sweet and sour? Sour Patch Kids last longer when frozen, because the jelly candies harden. Prepare to pucker up as the gummy candies slowly dissolve!
Yogurt
If you love the tart flavor and fluffy texture of frozen Greek yogurt, then try adding a few cups of your favorite refrigerated yogurt to the freezer for a similar taste and texture. There's no need to bust out the ice-cream maker. Add popsicle sticks to a yogurt cup or freeze Go-Gurt packs. Remember Dippin' Dots? These frozen yogurt drops remind us of the '90s phenomenon and are a fun new way to eat frozen yogurt.