Sweet Potato Latkes Recipe
Lovely Latkes, Thanksgivukkah-Style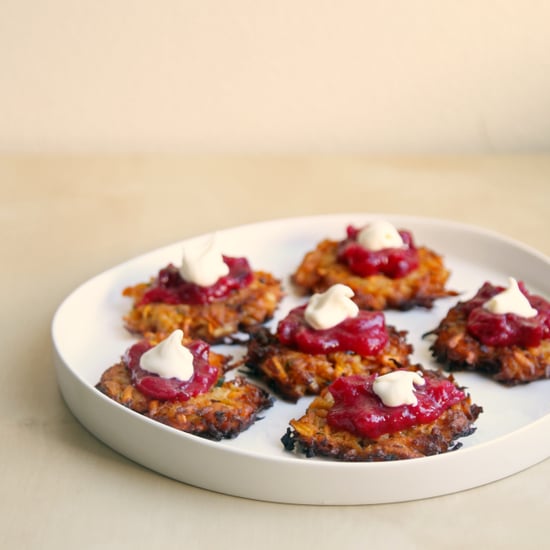 Take two classic holiday comfort foods, latkes and sweet potato casserole; combine them into one Thanksgivukkah-appropriate superdish; and the results are just as you might expect: expletive-inducing deliciousness. Generously dollop each oil-kissed fritter with tangy crème fraiche and a throat-tingling hybrid dish of its own, cranberry horseradish sauce, and it may just be the best thing to grace your Thanksgiving table. Enough talk. Trust me: you want the ridiculously tasty recipe.
Notes
Latkes are also fantastic when fried in duck fat, chicken shmaltz, or lard (if you're not keeping kosher). A spring-loaded ice cream scoop makes easy work of portioning out the latke batter when frying.
Ingredients
For the cranberry sauce:
1 (12-ounce) bag fresh or frozen cranberries
1 (6-ounce) jar prepared horseradish, including juice, or 1/4 cup firmly packed, finely grated peeled fresh horseradish
2/3 cup granulated sugar
1/3 cup water
For the latkes:
1 1/2 pounds sweet potatoes, peeled
1 pound russet potatoes, peeled
1/2 large yellow onion
2 large eggs, separated
2 tablespoons all-purpose flour
Scant 1 tablespoon kosher salt
1 teaspoon freshly ground white pepper
1 tablespoon minced flat-leaf parsley
Canola oil, for frying
Flaky sea salt
Crème fraiche, for serving
Directions
For the cranberry sauce: Bring cranberries, horseradish, sugar, and water to a simmer in a three-quart heavy saucepan over moderate heat, stirring with a wooden spoon until sugar is dissolved. Simmer, uncovered, stirring and mashing berries frequently with spoon, until berries break down, five to 10 minutes.
For the latkes: Grate the sweet potatoes, potatoes, and onion on the largest holes of a cheese grater over a strainer set in a large mixing bowl, alternating between the three so that the onion juices will prevent the grated potato from turning brown.
Squeeze out as much liquid as possible from the potato-onion mixture into the mixing bowl (to make this more manageable, do it one handful at a time); put the squeezed potato-onion mixture in a clean bowl.
Let the liquid settle for a few minutes, and then carefully pour off the watery part, leaving behind the starch that has settled at the bottom. Add the potato mixture back in, and toss with the starch, egg yolks, flour, salt, pepper, and parsley using clean hands.
Beat the egg whites until stiff peaks form, and then gently fold them into the potato mixture.
Heat about 3/8 inch of canola oil in a large cast-iron skillet over medium-high heat, until it is hot enough that it immediately sizzles when a dollop of latke batter is added to the pan.
Drop the latke batter in the hot oil in roughly three-tablespoon portions (see recipe note), flattening them slightly into discs with the back of the spoon/ice cream scoop. Fry, flipping when the edges and bottom have turned golden-brown; the total frying time should be four to five minutes. Drain on paper towels, blotting off excess grease from the tops and sprinkling with flaky sea salt while still hot.
To keep the latkes warm while frying the remainder of the batter, place them on a rack set inside a baking sheet in a 250ºF oven.
Serve with cranberry sauce and crème fraiche.
Information
Category

Side Dishes, Potato

Cuisine

Jewish

Yield

8 servings