Sweet Potato Oven Fries With Avocado Dip Recipe
A Simple, Seasonal, and Scrumptious Sweet Potato Side Dish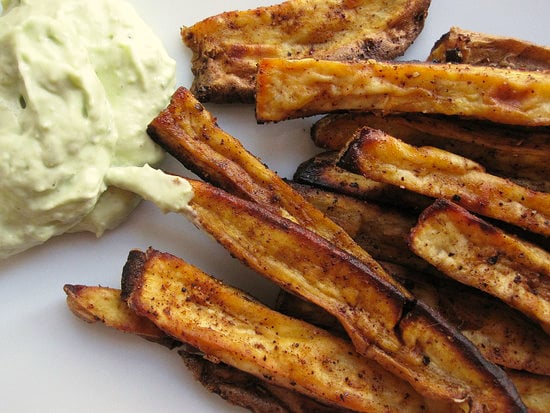 When I had some friends over to try Bobby Flay's award-winning burger, there was only one thing I thought to pair the burgers with: fries. Not just any fries, but seasonal sweet potato fries. The burger is called the Santa Fe, so I was hoping for Tex-Mex inspired fries. Luckily, I found this recipe for baked sweet potato fries with a creamy and cooling avocado dip.
The pairing of slightly spicy sweet potatoes with a luscious green dipping sauce is absolutely sublime. Although I followed the recipe closely and I really enjoyed the flavor, my sweet potatoes weren't as crispy as I wanted them to be. Do you have tips for making them crisp? Please share with me in the comments. For the recipe, which doesn't disappoint, read on.
Ingredients
2 large sweet potatoes, peeled or unpeeled, cut into 4-inch long and 1/4 to 1/2-inch thick fries
2 tablespoons olive oil, or more as needed
1 teaspoon paprika
1/2 teaspoon chili powder
1/2 teaspoon ground coriander
Coarse ground rock salt and freshly ground black pepper, to taste
Avocado Dip, recipe follows
Directions
Preheat your oven to 450 degrees F. Line a baking sheet with aluminum foil and set aside.
Place the sweet potatoes in a large bowl and toss with olive oil until the sweet potatoes are coated. Add the paprika, chili powder, coriander, salt, and pepper; toss to distribute evenly.
Arrange the coated fries in a single layer on the prepared pan. Bake for 20 minutes on the lower rack until the sweet potatoes soften. Transfer the pan to the upper rack of the oven and bake 10 minutes longer, until fries are crispy. Serve with Avocado Dip.
Serves 6.
Avocado Dip:
1 avocado
1/3 cup mayonnaise
1/3 cup cream cheese
1 jalapeno, seeded and chopped
2 scallions, white and light green part only, chopped
1 lime, juiced
Salt and freshly ground black pepper
Place the avocado, mayonnaise, cream cheese, jalapeno, scallions, and lime juice into a blender or small food processor.
Blend for 1 minute or until you have a smooth paste. Season with salt and pepper, to taste. Serve as a dip for the Sweet Potato Oven Fries.
Information
Category

Side Dishes, Potato

Cuisine

North American