Sweet Potato Pie Recipe
Warning: Sweet Potato Pie Is Severely Addictive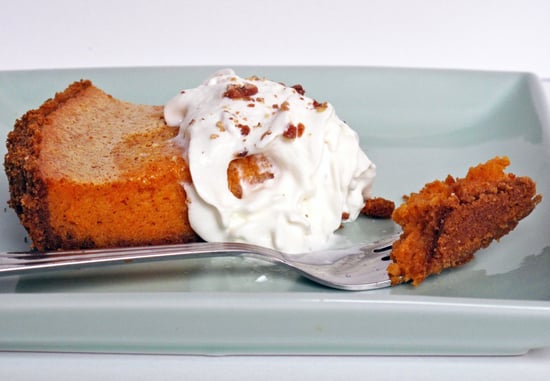 I just completed a dry run of my upcoming Thanksgiving feast — a fancified version of turkey breast, a few of my favorite vegetable sides, and my first-ever sweet potato pie. The sweet potato pie may have been my first, but it certainly won't be my last. It's the perfect balance of textures and flavors: more soufflé-like than custardy in texture, with a crispy graham cracker and butter crust to keep each bite interesting. But in my opinion, it's the candied-nut cream topping, with its caramelized crunch and cool-whipped consistency, that makes me absolutely crazy for it. Like, stand-over-the-counter, just-one-more-piece-and-I'm-done crazy for it.
Want to be crazy for it, too? Then keep reading for the recipe.
Sweet Potato Pie With Candied-Nut Cream
From Real Simple
Ingredients
1 pound sweet potatoes
12 graham crackers
5 tablespoons unsalted butter, melted
2 tablespoons granulated sugar
1/2 teaspoon kosher salt
1 14-ounce can sweetened condensed milk
2 large eggs
1/2 teaspoon ground cinnamon
1/4 teaspoon ground ginger
1/4 teaspoon ground nutmeg
Pinch ground cloves
1 cup heavy cream
1/2 cup candied nuts or peanut brittle, chopped
Directions
Heat oven to 400°F. Pierce the potatoes all over with a fork, place on a rimmed baking sheet, and bake until very tender, 50 to 60 minutes. Let cool, then halve and scoop out the flesh (discard the skins).
Reduce oven to 350°F. In a food processor, process the graham crackers until fine crumbs form. Add the butter, sugar, and 1/4 teaspoon of the salt, and pulse until moistened. Press the mixture into the bottom and up the sides of a 9-inch pie plate, using a straight-sided dry measuring cup to help. Place on a rimmed baking sheet, and bake until dry and set, 10 to 12 minutes (if the crust puffs while baking, press it down gently). Let cool.
Wipe out the food processor, and add the sweet potato flesh, condensed milk, eggs, cinnamon, ginger, nutmeg, cloves, and the remaining 1/4 teaspoon of salt, and process until smooth (do not overprocess). Pour the mixture into the crust, and bake until set in the center, 45 to 55 minutes. Let cool completely.
Before serving, using an electric mixer, beat the cream on medium-high until soft peaks form. Gently fold in the nuts, and serve with the pie.
Information
Category

Desserts, Pies/Tarts

Cuisine

North American

Yield

Serves 8