Sweet Potatoes With Onions Recipe
Fast, Easy Caramelized Sweet Potatoes With Onions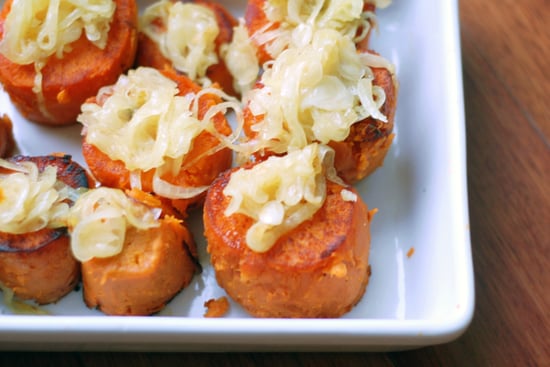 It's Thanksgiving, and sweet potatoes are everywhere. There are so many different ways to serve sweet potatoes, and we've covered a lot of them: from sweet potato soup and fries to pone and pie.
Sure, you can mash them and throw some marshmallows on top for a traditional preparation, but here's a slightly different preparation of this root vegetable for Fall. Sweet potatoes are boiled, peeled, cut into two-inch rounds, browned in butter, and topped with sautéed onions. For the recipe, keep reading.
Caramelized Sweet Potatoes With Onions
From Camilla Salem, POPSUGAR Food
Notes
A mandoline works really well to slice the onions; otherwise, just slice them as thinly as you can by hand.
Ingredients
2 medium yellow onions, sliced very thinly
3 tablespoons olive oil
1/2 teaspoon salt
3 large sweet potatoes
3 tablespoons butter
Directions
In a large sauté pan, heat olive oil over medium-low heat. Add sliced onions, and cook very slowly until onions are translucent or lightly browned, depending on your preference.
In a large pot, boil sweet potatoes (whole, with skin on) until tender when pierced with a fork and skin begins to peel off. Remove from water, and let cool.
Once sweet potatoes are cool enough to handle, cut off ends, and then cut potatoes into two-inch rounds.
In another sauté pan, melt butter. Place sweet potato rounds cut-side down in the melted butter, and let cook until they begin to brown, about five minutes. Flip rounds over, and do the same on the other side.
Assemble sweet potatoes in a single layer on a serving platter or a baking dish, and top with sautéed onions. Serve immediately or keep in a low-temperature oven to keep warm.
Information
Category

Vegetables, Side Dishes

Cuisine

North American

Yield

Serves 6-8