Sweet and Savory Cheesecake Recipes
Ricotta Cheesecake Two Ways — Sweet and Savory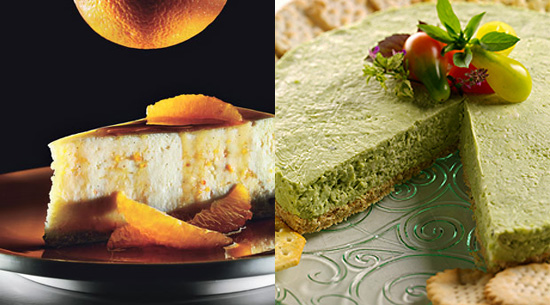 Just because it's Summer doesn't mean you have to cut out your favorite cheesecake dessert; after all, today is National Cheesecake Day! My suggestion? Take a note from the Italians, who sub out cream cheese in favor of ricotta cheese for a lighter, more seasonally-appropriate cheesecake that isn't quite so rich. Go the traditional dessert route, dressing the top with a glamorous mixture of navel oranges and caramel. Or, if you're feeling daring, impress a crowd by composing a savory parmesan, basil, and ricotta "cheesecake" to spread atop an assortment of crackers. Take a slice out of either warm-weather favorite when you read more.
Ingredients
Crust:
1-3/4 cups graham cracker crumbs (finely ground in processor; from about 15 whole graham crackers)
1/4 cup (packed) dark brown sugar
1 tablespoon all purpose flour
1/2 teaspoon coarse kosher salt
1/4 cup (1/2 stick) unsalted butter, melted
2 tablespoons water
Filling:
1-1/2 cups organic fresh whole-milk ricotta cheese (about 12 ounces)
3 8-ounce packages cream cheese, room temperature
1/2 vanilla bean, split lengthwise
1 cup sugar
1 tablespoon finely grated orange peel
2 teaspoon vanilla extract
1/4 teaspoon coarse kosher salt
4 large eggs
Caramel-Orange Sauce (see recipe below)
Special Equipment: 9-inch-diameter springform pan with 2 1/2-inch-high sides; Cheesecloth
Directions
Make the crust: Position rack in center of oven; preheat to 350°F. Blend graham cracker crumbs, brown sugar, flour, and coarse salt in processor. Add melted butter and 2 tablespoons water; process until crumbs are evenly moistened. Transfer crumb mixture to 9-inch springform pan with 2 1/2-inch-high sides; press mixture firmly onto bottom and 1 3/4 inches up sides of pan. Bake crust until set, about 15 minutes. Cool crust in pan. Cover; store at room temperature for up to 1 day.
Make the filling: Line sieve with 3 layers of cheesecloth; set over medium bowl. Place ricotta cheese in prepared sieve; wrap cheesecloth around ricotta and squeeze gently to remove excess liquid. Cover and chill overnight (additional liquid will drain from ricotta). Preheat oven to 325°F. Wrap 3 layers of foil around outside of springform with crust, covering completely. Using electric mixer, beat cream cheese in large bowl until smooth. Add drained ricotta cheese and beat until blended. Scrape in seeds from vanilla bean; beat until well blended (reserve bean for another use). Add sugar, orange peel, vanilla extract, and coarse salt; beat until smooth. Add eggs 1 at a time, beating until blended after each addition. Transfer filling to baked crust in pan. Place springform pan with cake in large roasting pan. Add enough hot water to roasting pan to come halfway up sides of springform pan. Bake until cheesecake is set around edges and center no longer moves when pan is gently shaken, about 1 hour 30 minutes. Transfer cheesecake to rack and cool in pan 1 hour. Chill cheesecake uncovered overnight.
Using small knife, cut around cake sides to loosen. Remove pan sides. Transfer cake to platter. Cut cake into wedges and serve with Caramel-Orange Sauce.
Makes 10 to 12 servings.
Information
Category

Desserts, Cheesecake

Cuisine

North American
Ingredients
5 navel oranges (preferably Cara Cara), divided
1 1/2 cups sugar, divided
1/4 cup water
2 tablespoons (1/4 stick) unsalted butter
1/8 teaspoon coarse kosher salt
Directions
Very thinly slice 1 orange into rounds (about 1/16 to 1/8 inch thick). Remove any seeds. Place slices in medium bowl and add 1/2 cup sugar; let stand at room temperature 1 hour.
Combine 1 cup sugar and 1/4 cup water in heavy large saucepan. Stir over medium heat until sugar dissolves. Increase heat; boil without stirring until syrup is deep amber, occasionally brushing down sides of pan with wet pastry brush and swirling pan, about 10 minutes. Remove from heat. Carefully add orange-sugar mixture to caramel (mixture will bubble up). Return pan to medium heat; simmer until orange slices are tender, stirring occasionally, 12 to 15 minutes. Cool 10 minutes.
Transfer orange mixture to processor; add butter and coarse salt and process until orange slices are very finely chopped. Pour mixture through fine strainer set over bowl, pressing on solids to release as much liquid as possible (sauce will be thick). Cool. Cover and chill up to 2 days. Rewarm before using.
Using sharp knife, cut off peel and white pith from 4 oranges. Working over bowl to catch juices and using small sharp knife, cut between membranes to release segments into bowl. Mix orange segments and juices from bowl into warm sauce.
Makes 3 cups.

Nutritional Information per serving (1/4 cup): Calories (kcal) 137.1, Fat (g) 1.9, Saturated Fat (g) 1.2, Cholesterol (mg) 5.0, Carbohydrates (g) 31.0, Dietary Fiber (g) 1.0, Total Sugars (g) 29.1, Net Carbs (g) 30.0, Protein (g) 0.4
Information
Category

Other, Condiments/Sauces

Cuisine

North American
Ingredients
1 cup breadcrumbs
3 tablespoons melted butter
1 cup packed basil leaves
2 cloves garlic, chopped
1/2 cup light or cholesterol-free mayonnaise
1 carton (15 ounces) ricotta cheese
1/4 cup (2 ounces) blue cheese
1-1/2 cups (6 ounces) Parmesan cheese, grated
1/2 cup finely chopped, toasted almonds, optional
Slivered almonds, optional
Fresh chives, optional
Crackers and breads
Directions
Combine crumbs and butter; press into bottom of lightly greased 8- or 9-inch springform pan. Chill.
Combine basil, garlic and mayonnaise in a blender. Blend until smooth and set aside.
In mixing bowl, beat together the ricotta, blue and Parmesan cheeses until blended. Beat in basil mixture. Spread mixture over crust, pressing and smoothing top. Chill at least 8 hours or overnight.
When ready to serve, remove sides of pan and place cake on platter. Press chopped, toasted almonds onto sides of cheesecake, if desired.
Garnish the top of cheesecake by making a "flower" with slivered almonds and chive stems. Or, create a "bouquet" of pear tomatoes and herbs.
Serve with assorted breads, crackers and toasts.
Serves 50 as an appetizer.
Information
Category

Appetizers, Spreads

Cuisine

North American