Sweet and Savory Gnocchi Recipes
Potato Gnocchi Two Ways — Sweet and Savory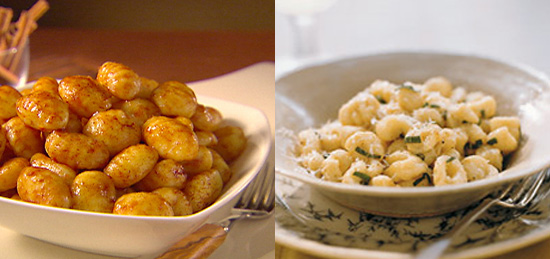 Although gnocchi is a perennial Italian favorite, it's one of those dishes that truly complements the flavors associated with Fall. It pairs wonderfully with savory ingredients like wild mushrooms and sage — and unexpectedly well with sweet spice additions such as cinnamon sugar, too.
Even if you've never done it before, don't be intimidated by making gnocchi at home. If you don't want to roll out your own dough, start with the store-bought variety; otherwise, experiment with a simple, from-scratch version, which makes use of leftover mashed potatoes. Looking for a way to branch out with pasta? Get both recipes now.
Ingredients
3/4 cup butter (1 1/2 sticks)
1 cinnamon stick
1 package storebought gnocchi
Salt
1 tablespoon sugar, plus more to taste
1 teaspoon ground cinnamon
Directions
Melt the butter with the cinnamon stick in a heavy medium skillet over medium heat until melted, about 2 minutes. Remove from the heat and set aside.
Cook the gnocchi in a large pot of boiling salted water until all the gnocchi rise to the surface, about 3 minutes. Discard the cinnamon stick from the butter sauce, and reheat the sauce over low heat. Using a slotted spoon, transfer the cooked gnocchi to the hot cinnamon butter in the skillet. Sprinkle with the sugar and cinnamon. Toss to coat, and add more sugar to taste.
Spoon the gnocchi and butter sauce into shallow bowls and serve immediately.
Serves 4 to 6.
Information
Category

Other, Desserts

Cuisine

Italian
Ingredients
2 1/2 cups cold leftover mashed potatoes
1 large egg yolk
1 teaspoon finely grated lemon zest
3 tablespoons extra-virgin olive oil
1 1/4 cups all-purpose flour, plus more for dusting
1 tablespoon salt
3 tablespoons unsalted butter
Pinch freshly ground black pepper
8 fresh sage leaves, finely sliced
1/4 cup grated parmesan cheese
Directions
In a medium bowl, combine potatoes, egg yolk, lemon zest, olive oil, flour, and 3/4 teaspoon salt. Using a wooden spoon, stir until incorporated. Divide dough into fourths. Line a baking sheet with parchment paper.
On a lightly floured work surface, roll 1/4 of the dough into a 3/4-inch-diameter log. Cut the log into 3/4-inch-long pieces. Pick up one piece of dough, and press onto the back of a fork with your thumb. Still using your thumb, roll dough off fork, forming a "C" shape; the indentations from the tines should be visible. Place the gnocchi on the prepared baking sheet. Repeat process with the remaining pieces of dough, arranging finished gnocchi in a single layer. Repeat with the remaining 3 portions of dough.
Fill a large saucepan with water, and add 2 teaspoons salt; bring to a boil. Have ready a colander set over a bowl. Add 1/4 of the gnocchi, and cook until they float to the top, 1 to 2 minutes. Using a slotted spoon, transfer cooked gnocchi to the colander. Cook the remaining gnocchi.
Place a large saute pan over medium-high heat. Add butter. When butter begins to brown, about 2 minutes, add pepper and the remaining 1/4 teaspoon salt. Increase heat to high. Add the gnocchi and sage. Cook, stirring occasionally, until the sage has wilted and the gnocchi have heated through, 1 1/2 minutes. Serve immediately, with a sprinkle of parmesan cheese.
Serves 4.
Information
Category

Pasta/Noodle, Side Dishes

Cuisine

Italian