Sweet and Savory Mashed Potato Recipes
Mashed Sweet Potatoes Two Ways — Sweet and Savory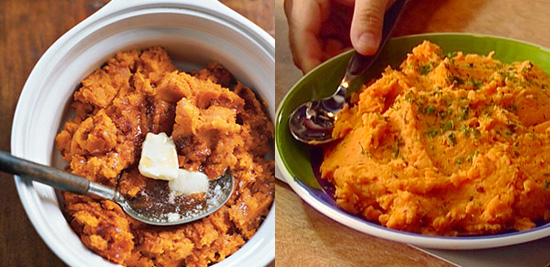 For your best Thanksgiving ever, begin planning for the big day earlier than you normally do. Rather than being daunted with the turkey up front, ease yourself into the holiday by selecting your side dishes first. Start with sweet potatoes, a surefire table topper at any Fall meal.
Serve them mashed in place of conventional white potatoes; you'll enjoy the same fluffy texture but also gain vitamins, antioxidants, and fiber. Balance out the salt on the table with a dessert-like puree studded with maple syrup and nutmeg, or skip the sugar and try out a savory chipotle version. Try either — or both — when you read on.
Ingredients
5 pounds sweet potatoes, unpeeled
1/4 to 1/2 cup maple syrup
5 tablespoons unsalted butter, at room temperature
1 cup sour cream
1/2 teaspoon kosher salt
1/4 teaspoon ground nutmeg
Directions
Heat oven to 375 degrees F.
Pierce the sweet potatoes several times with a fork and place on a foil-lined baking sheet. Bake until softened, 1 to 1 1/2 hours, depending on size; let cool.
Slice each sweet potato in half lengthwise. Scoop the flesh into a saucepan and discard the skins. Add the maple syrup (to taste), butter, and sour cream. Using a wooden spoon or potato masher, mix until smooth. Season with the salt and nutmeg. Place over medium heat, stirring occasionally, until warmed through, about 5 minutes.
Serves 8.
Information
Category

Side Dishes, Potato

Cuisine

North American
Directions
Put cubed potatoes into steamer basket and place steamer into a large pot of simmering water that is no closer than 2 inches from the bottom of basket. Allow to steam for 20 minutes or until the potatoes are fork tender.
Add butter to potatoes and mash with potato masher.
Add peppers, sauce, and salt and continue mashing to combine. Serve immediately.
Serves 4.
Information
Category

Side Dishes, Potato

Cuisine

North American