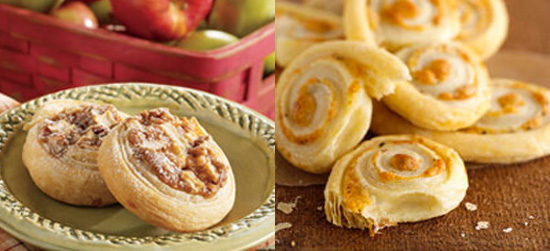 During the holidays, stock your fridge with puff pastries for quick appetizers that can be thrown together in a pinch. The flaky, easy-to-thaw, simple-to-slice dough is irresistible, whether it's stuffed with something sweet like ginger and holiday spice or savory like sliced prosciutto. Wow guests with minimal work by serving two types of puff pastry spirals — one sweet, filled with diced green apples and dusted with pecans and powdered sugar; the other savory and infused with the Roman flavors of sharp parmesan cheese and black pepper. Everyone will be raving at both the beginning and the end of the meal. Want the recipes? Then click to read more.
Ingredients
1/2 of a 17.3-ounce package puff pastry (1 sheet)
1 cup packed brown sugar
1/2 cup all-purpose flour
1 teaspoon ground cinnamon
1/8 teaspoon ground nutmeg
2 cups peeled, diced Granny Smith apples
1 cup chopped pecans
1 tablespoon cold butter, cut into pieces
Confectioners' sugar
Directions
Thaw the pastry sheet at room temperature for 40 minutes or until it's easy to handle. Heat the oven to 375 degrees F. Lightly grease a baking sheet.
Stir the brown sugar, flour, cinnamon, and nutmeg in a medium bowl. Add the apples, pecans, and butter and toss to coat.
Unfold the pastry sheet on a lightly floured surface. Roll the pastry sheet into a 15-by-10-inch rectangle. Brush the pastry sheet with water. With the long side facing you, spoon the apple mixture on the pastry to within 2 inches of the long sides and to the edge of the short sides. Starting at a long side, roll up like a jelly roll. Cut the pastry roll into 12 (1 1/4-inch) slices. Place the slices 2 inches apart on the baking sheet.
Bake for 15 minutes or until the pastries are golden. Remove the pastries from the baking sheet and cool on a wire rack. Sprinkle with the confectioners' sugar.
Makes 12 spirals.
Information
Category

Appetizers, Puff Pastry

Cuisine

North American
Savory Puff Pastry Spirals
Ingredients
1/2 of a 17.3-ounce package frozen puff pastry (1 sheet), thawed
1 tablespoon milk
1/3 cup grated parmesan cheese
1/2 teaspoon cracked black pepper
Directions
On a lightly floured surface, roll puff pastry sheet into a 14-by-10-inch rectangle. Brush pastry with some of the milk; sprinkle with parmesan cheese and pepper. Starting at a short side, loosely roll up into a spiral, stopping at the center. Repeat rolling up, starting at the other short side. Wrap in plastic wrap; freeze for 30 minutes.
Preheat oven to 350 degrees F. Line baking sheets with parchment paper or foil; set aside. Unwrap roll and place on a cutting board. Brush with remaining milk. Using a serrated knife and a sawing motion, cut pastry roll crosswise into 3/8-inch-thick slices. Place slices 1 inch apart on prepared baking sheets, reshaping as necessary.
Bake for 12 to 14 minutes or until crisp and golden. Transfer to a wire rack; cool slightly. Serve warm.
Makes about 24 spirals.

Nutritional information per serving: servings per recipe 24 servings; calories 50, total fat (g)4, cholesterol (mg)1, sodium (mg)59, carbohydrate (g)4, protein (g)1
Information
Category

Appetizers, Puff Pastry

Cuisine

North American