Sweet and Savory Recipes For Bread Pudding
Bread Pudding Two Ways — Sweet and Savory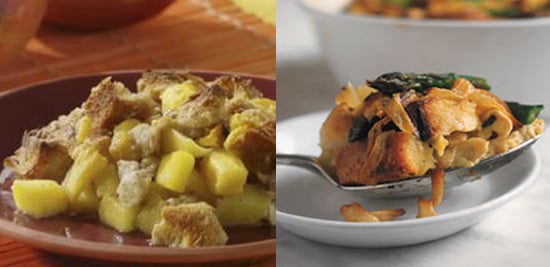 I've been known to serve bread pudding at Easter for dessert, but this year, I found myself torn between a sweet rendition with mangoes and chai spice, and a savory version with asparagus and Camembert cheese — so I'm making both! Because plain white breads such as challah, brioche, or pullman loaves have a neutral flavor, they work well as the filling either when baking bread pudding for dessert or as a side dish. Regardless of whether you go for the sweet or the salty, make the flavors current by maximizing ingredients in store now. Use fruits like mango or vegetables such as asparagus. For both recipes, read on.
Ingredients
4 cups stale (but not dry) white bread slices, cut into 1/2-inch cubes
2 large ripe mangoes, peeled (see Tip) and cut into 1/2-inch cubes (3 cups)
2 cups fat-free milk
2 eggs, lightly beaten
2 tablespoons light or dark rum, (optional)
1/2 cup packed dark brown sugar
1 teaspoon vanilla extract
1/2 teaspoon ground cinnamon
1/2 teaspoon ground cloves
1/2 teaspoon ground cardamom
1/2 teaspoon ground ginger
1/4 teaspoon ground black peppercorns
1/8 teaspoon salt
Directions
Position rack in the center of the oven; preheat to 350ºF. Coat an 8-inch square baking dish with cooking spray.
Toss bread cubes and mangoes together in the baking dish.
Whisk milk, eggs, rum (if using), brown sugar, vanilla, cinnamon, cloves, cardamom, ginger, pepper and salt in a medium bowl. Pour over the bread and mangoes; allow the mixture to soak for about 5 minutes.
Bake the pudding until it is set and a knife inserted in the center comes out clean, about 1 1/4 hours. Serve warm for best flavor.
Makes 8 servings of 1/2 cup each.


Nutritional information per serving: 164 calories; 2 g fat (0 g sat, 1 g mono); 54 mg cholesterol; 34 g carbohydrates; 6 g protein; 2 g fiber; 180 mg sodium; 228 mg potassium.
Information
Category

Breakfast/Brunch, Casseroles

Cuisine

North American
Ingredients
1-1/2 tablespoons unsalted butter, plus more for dish
1-1/2 pounds medium asparagus
Salt and freshly ground black pepper
1-1/2 tablespoons olive oil
8 ounces small white button or wild mushrooms
1 small Vidalia or Spanish onion, peeled and cut into 1/4-inch-thick wedges
1/2 loaf country-style white bread (10 ounces), crust on, cut into 3/4-by-1 1/2-by-1 1/2-inch pieces
2 teaspoons chopped fresh rosemary
4 ounces ripe Camembert cheese, cut into 1/2-inch cubes
1-1/2 cups milk
1-1/2 cups heavy cream
5 large eggs, room temperature
Directions
Heat oven to 350 degrees. Generously butter a 2 1/2-quart casserole dish, and set dish aside. Snap off and discard tough ends of asparagus. Using a vegetable peeler, carefully peel outer layer from bottom 2 inches of asparagus spears.
Fill a large straight-sided saute pan with salted water, and bring to a boil; prepare an ice bath. Add asparagus, and cook until bright green, about 1 minute. Transfer asparagus to ice bath, and let cool. Drain, transfer to a clean kitchen towel, and pat dry. Set asparagus aside.
Melt 1/2 tablespoon butter with 1/2 tablespoon olive oil in a medium skillet over medium heat. Add mushrooms, and cook, stirring once or twice, until mushrooms turn golden brown, 1 to 2 minutes. Transfer mushrooms to a plate; set aside.
Melt remaining tablespoon butter with remaining tablespoon oil, and add onion. Cook until onion is soft and translucent, about 15 minutes. Remove the pan from heat, and set aside.
Randomly arrange half of the bread pieces on bottom of prepared casserole dish. Sprinkle half of the rosemary over the top. Place half of the asparagus, onions, mushrooms, and cheese on top. Make a second layer with remaining bread, rosemary, asparagus, onions, mushrooms, and cheese.
To make custard, combine milk and cream in a medium saucepan, and set over medium-high heat; cook until mixture is hot. In a medium bowl, whisk together eggs, hot-milk mixture, 1 1/2 teaspoons salt, and 1/4 teaspoon pepper until combined.
Pour custard over pudding. Press down on pudding, completely soaking top layer of bread, and place a plate on top. Weigh down the plate with a can or other object. Let pudding stand 20 minutes.
Bake pudding until custard has set and top is golden, about 45 minutes. Remove dish from oven, and transfer to a wire rack to cool, 5 to 10 minutes. Serve.
Makes 8 servings.
Information
Category

Breakfast/Brunch, Casseroles

Cuisine

North American