Sweet and Savory Recipes For Breakfast Oatmeal
Oatmeal Two Ways — Sweet and Savory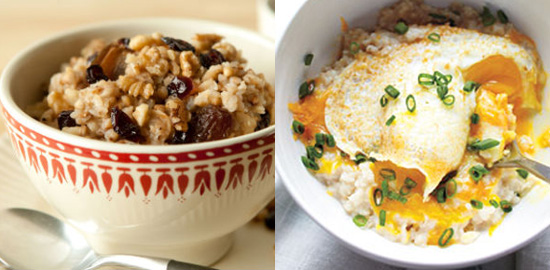 Not only is oatmeal sexy again, but serve it up savory to make it the hottest bowl in town. Savory oatmeal's been popping up everywhere, whether it's Asian-inflected scallions and soy sauce, sharp gorgonzola and walnuts, or Cameron Diaz's leek, butter, and ponzu version.
Not convinced yet? For your next breakfast, dare to try oatmeal in both sweet and sugar-free applications, taking the time to compare their flavors. Enjoy rolled oats fortified with buckwheat groats and simmered in apples and cinnamon for a subtle sweetness — then match it up against a cheesy creation topped with a creamy coddled egg. See both fast, easy, and healthy recipes when you read more.
Ingredients
1 cup rolled oats
1/2 cup buckwheat groats
2 cups pure apple juice
2 cups water
1 cinnamon stick
Raisins, apple slices, and dried nuts, for serving
Directions
Put oats and groats into a medium pot and cook over medium heat, stirring often, until toasted and fragrant, 5 to 7 minutes. Meanwhile, put juice, water and cinnamon into a small pot and heat over medium heat until hot.
Carefully add hot juice mixture to oats and groats and return to the heat. Bring to a boil, reduce heat to medium low and simmer, stirring occasionally, until liquid is absorbed and oats and groats are tender, about 10 minutes. Remove and discard cinnamon, ladle into bowls and serve.
Serves 4.
Information
Category

Other, Breakfast/Brunch

Cuisine

North American
Ingredients
1/2 cup quick-cooking rolled oats
Coarse salt and ground pepper
Nonstick cooking spray
1 large egg
2 tablespoons shredded sharp cheddar
1 tablespoon thinly sliced scallion greens
Directions
In a small saucepan, bring 1 cup water to a boil. Add oats and pinch of salt; stir, reduce heat, and simmer until tender, about 5 minutes. Meanwhile, heat a small nonstick pan over medium. Coat lightly with cooking spray. Add egg and cook until white is set and yolk is still runny, about 3 minutes. Season egg to taste with salt and pepper. Serve oatmeal in a bowl topped with cheese, egg, and scallion greens.
Serves 1.
Information
Category

Other, Breakfast/Brunch

Cuisine

North American