Sweet and Savory Recipes For Dutch Baby Pancakes
Dutch Baby Pancakes Two Ways — Sweet and Savory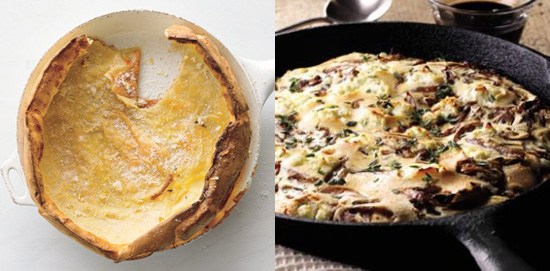 If you're hosting a crowd and can't decide whether your guests would rather eat sweet or savory brunch, here's an idea: make it easy to serve both! Take an unconventional approach by serving Dutch baby pancakes — the famously puffy hotcakes baked in the pan — with toppings both sweet and savory.
Those looking for a sugar high will always appreciate the original, enjoyed with little more than sugar, butter, and a squeeze of lemon. For a heftier option, dot the eggy batter with slices of sautéed onion and crumbles of soft goat cheese, along with a balsamic vinegar reduction for drizzling. Very grown-up, indeed. For the breakfast dish that offers something for everyone, read more.
Sweet Dutch Baby Pancakes
From Gourmet
Ingredients
1/3 cup sugar
2 teaspoons grated lemon zest
3 large eggs at room temperature 30 minutes
2/3 cup whole milk at room temperature
2/3 cup all-purpose flour
1/4 teaspoon pure vanilla extract
1/8 teaspoon cinnamon
1/8 teaspoon grated nutmeg
1/8 teaspoon salt
1/2 stick unsalted butter, cut into pieces
Lemon wedges for serving (optional)
Directions
Put skillet on middle rack of oven and preheat oven to 450ºF.
Stir together sugar and zest in a small bowl.
Beat eggs with an electric mixer at high speed until pale and frothy, then beat in milk, flour, vanilla, cinnamon, nutmeg, and salt and continue to beat until smooth, about 1 minute more (batter will be thin).
Add butter to hot skillet and melt, swirling to coat. Add batter and immediately return skillet to oven. Bake until puffed and golden-brown, 18 to 25 minutes.
Serve immediately, topped with lemon sugar.
Serves 4 to 6 for breakfast or dessert.
Information
Category

Breakfast/Brunch, Pancakes/Waffles

Cuisine

North American
Ingredients
1 tablespoon extra-virgin olive oil
2 large red onions, sliced (see Kitchen Tip)
2 tablespoons water
2 tablespoons chopped fresh thyme
1/2 cup all-purpose flour
1/2 cup low-fat milk
2 large eggs
2 large egg whites
1 tablespoon canola oil
1 tablespoon sugar
1/4 teaspoon salt
1/4 teaspoon freshly ground pepper
1/4 cup crumbled goat cheese
1 cup balsamic vinegar
2 teaspoons honey
Directions
Heat olive oil in a large cast-iron or ovenproof nonstick skillet over medium-high heat. Reduce heat to medium, add onions and cook, stirring occasionally, until they are tender and light golden brown, 15 to 20 minutes. Stir in water and thyme, scraping up any browned bits.
Meanwhile, position rack in middle of oven; preheat to 450°F.
Blend flour, milk, eggs, egg whites, canola oil, sugar, salt and pepper in a blender until smooth. Pour the batter over the onions. Sprinkle with cheese.
Bake the pancake until puffed and golden, about 15 minutes.
Meanwhile, combine vinegar and honey in a small saucepan. Bring to a boil over medium-high heat and cook until syrupy and reduced to 1/3 cup, 12 to 15 minutes. (Watch carefully during the last few minutes to prevent burning.) Cut the pancake into wedges and serve immediately with the balsamic syrup.
Serves 4 as a main dish or 8 as a side dish.
Nutritional information per main-dish serving: 295 calories; 12 g fat (3 g sat, 6 g mono); 112 mg cholesterol; 38 g carbohydrates; 11 g protein; 2 g fiber; 269 mg sodium; 247 mg potassium.
Information
Category

Breakfast/Brunch, Pancakes/Waffles

Cuisine

North American