Sweet and Savory Recipes For French Toast
French Toast Two Ways — Sweet and Savory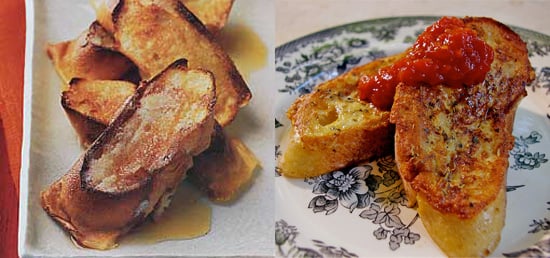 Did you know that September is All-American Breakfast Month? I thought that title was awarded to every month out of the year, but that's probably because I'm breakfast and brunch's biggest fan. The beauty of breakfast's most popular dishes is that many of them, like french toast, only require the most basic of ingredients.
Got bread and eggs? Then you can make a sweet, syrup-baked breakfast on Saturday morning . . . and use the day-old bread to prepare a savory, peppery toast on Sunday. Enhance the flavor of Sunday's version with a topping of tomato jam, olive tapenade, or — my suggestion — caramelized onion and bacon jam. Get your weekend off to the right start when you read more.
Ingredients
1 (13- to 14-inch-long) loaf of soft-crust supermarket Italian bread
1/2 stick (1/4 cup) unsalted butter, softened
2 large eggs
1 2/3 cups whole milk
3 tablespoons sugar
Accompaniment: pure maple syrup
Directions
Cut 12 (1-inch-thick) diagonal slices from bread, reserving ends for another use.
Generously butter 1 side of each slice and arrange slices, buttered sides up, in 1 layer in a buttered 13- by 9- by 2-inch glass baking dish, squeezing them slightly to fit if necessary.
Whisk together eggs, milk, and 1/4 teaspoon salt until combined well, then pour evenly over bread. Chill, covered, until bread has absorbed all of custard, at least 1 hour and up to 1 day, depending on bread.
Preheat oven to 425°F.
Bring mixture to room temperature and sprinkle bread with sugar.
Bake, uncovered, in middle of oven until bread is puffed and top is golden, 20 to 25 minutes. Serve immediately.
Serves 6.
Information
Category

Breakfast/Brunch, French Toast

Cuisine

North American
Ingredients
2 thick slices day-old baguette
1/4 cup milk
1 egg
Kosher salt and freshly ground black pepper
1 generous teaspoon herbes de Provence
2 teaspoons butter
Serving suggestion: tomato jam or bacon jam
Directions
Soak the bread in the milk on both sides to soften, about 5 minutes per side, depending on how hard the bread is. (If it is softer, it may need less time.)
Beat the egg with salt, pepper, and herbes de Provence in a flat or shallow dish.
Gently melt the butter in a frying pan until foaming, but not colored. Pull the bread from the milk and turn it around in the egg mixture to coat.
Fry on both sides until golden brown. Eat with a spoonful of tomato jam.
Makes 1 serving.
Information
Category

Breakfast/Brunch, French Toast