Sweet and Savory Recipes For Grilled Pineapple Skewers
Grilled Pineapple Skewers Two Ways — Sweet and Savory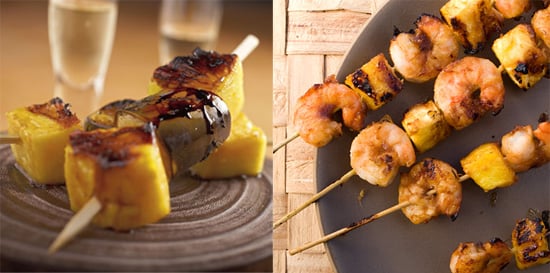 Fancy flame-broiled flavor? Then throw some skewers on the grill for dinner, and soak up a little evening sunshine while you're at it. Enjoy the fruits of your labor by topping those grates with chunks of tropical pineapple. Naturally sweet pineapple caramelizes when exposed to high heat, making it a prime candidate for a grilled dessert with other sweet tropical fruits such as banana. But don't stop at dessert; the fruit also lends sweetness to a supper of sweet-and-hot Caribbean seafood skewers. Make the most of your pineapple on the barbie when you keep reading.
Ingredients
8 bamboo skewers, soaked in water for at least 4 hours
4 unpeeled ripe bananas, ends trimmed and cut into 2-inch chunks
1 fresh pineapple, peeled, cored, and cut into 2-inch chunks
1/2 cup turbinado sugar or 1/3 cup cane syrup
Zest and juice of 1/2 lemon
Directions
Make a lengthwise slice on the skin of each unpeeled banana chunk to allow easy peeling after bananas are grilled. Thread the fruit onto skewers, alternating chunks of banana and pineapple.
To make the glaze, put the sugar in a stainless-steel saucepan and cook over medium-high heat until it becomes liquid, about 3 minutes. Stir with a wooden spoon and add the lemon juice and zest. If using cane syrup, simply add the lemon juice with zest and stir, without heating. Set aside.
Fill a charcoal chimney with hardwood lump charcoal, set the chimney on the bottom grill grate, and light. When the coals are ready, dump them into the bottom of the grill and spread evenly. For a gas grill, turn to medium-high.
Brush the skewered fruits with the glaze. Place the skewers over direct heat. Grill 3 minutes on each side, until fruit is browned. Remove from grill and brush again with the glaze. Serve immediately.
Serves 4.
Information
Category

Fruit, Desserts

Cuisine

North American
Savory Pineapple Skewers
From Chow
Ingredients
5 cups pineapple (from 1 large pineapple, about 5 pounds), large dice
1/2 cup packed light brown sugar
1/2 cup white wine vinegar
1/4 cup soy sauce
2 medium garlic cloves
1/8 teaspoon cayenne pepper
36 extra-large shrimp (about 2 pounds), peeled and deveined
Vegetable oil
12 (10-inch) metal or wooden skewers
Directions
Combine 2 cups of the pineapple, the sugar, vinegar, soy sauce, and garlic in a blender and blend on high until smooth, about 30 seconds. Pour into a medium saucepan and bring to a boil over medium heat.
Skim off any foam and reduce heat to low. Simmer until glaze is thick and syrupy enough to coat the back of a spoon and has reduced to about 3/4 cup, about 30 minutes. Stir in cayenne and set aside to cool slightly, at least 5 minutes. Meanwhile, heat a gas or charcoal grill to high (about 400°F) or a grill pan over high heat until very hot.
Skewer 1 shrimp, making sure to pass the skewer through the thick portion and the tail portion, then skewer 1 piece of the remaining pineapple. Repeat, alternating between the two and leaving no space in between, until you have 3 shrimp and 2 pineapple pieces per skewer. Brush skewers on one side with glaze.
Rub the grill with a towel dipped in vegetable oil, place the skewers on the grill glaze side down, and brush the other side of the skewers with more glaze. Continue brushing and turning every few minutes until the thick portions of the shrimp are white and firm, about 15 to 20 minutes. Remove from the grill and serve immediately.
Makes 4 to 6 servings.
Information
Category

Main Dishes, Shellfish

Cuisine

Other