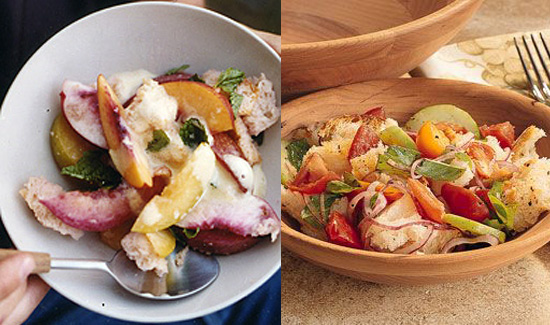 Nothing is more perfect on a picnic-friendly day than a giant bowl of panzanella, or Italian bread salad. Traditionally, the resourceful Tuscans stretched day-old bread by using torn pieces to soak up the liquid in a tomato, cucumber, onion, and basil salad dressed with olive oil and vinegar.
But Italian chef Chris Cosentino takes panzanella in a different direction by putting a dessert spin on it with Summer stone fruits and a luscious zabaglione flavored by Moscato d'Asti. The result is a lighter, fresher version of bread pudding. Can't decide between a sweet and savory bread salad? Then make both. For the recipes, read more.
Ingredients
1/4 cup plus 1 tablespoon sugar
1 tablespoon hot water
3 tablespoons extra-virgin olive oil
One 3/4-pound loaf sourdough bread, crusts removed and bread cut into 1-inch cubes (about 10 cups)
4 pounds mixed stone fruits, such as peaches, apricots and plums, each pitted and cut into 8 wedges
2 tablespoons fresh orange juice
3/4 cup plus 2 tablespoons Moscato d'Asti
8 large egg yolks
1 tablespoon finely chopped mint
Directions
Preheat the oven to 350°. In a small bowl, mix 1 tablespoon of the sugar with the hot water, stirring to dissolve the sugar. Add 2 tablespoons of the olive oil and stir to combine.
Arrange the bread cubes on a large rimmed baking sheet. Drizzle the bread cubes with the sugar-syrup-and-olive-oil mixture and toss to coat. Bake until the bread cubes are crisp and golden brown, about 10 minutes.
In a large bowl, toss the fruit slices with the fresh orange juice and 2 tablespoons of the Moscato d'Asti and let stand at room temperature for 10 minutes.
Meanwhile, in a medium stainless steel bowl, whisk the egg yolks with the remaining 1/4 cup of sugar and 3/4 cup of Moscato. Fill a large bowl with ice water. Set the bowl with the eggs over a medium saucepan filled with 1 inch of barely simmering water (you can also use a double boiler).
Using a whisk or a handheld electric mixer on low speed, beat the egg yolk mixture until it is hot and foamy and forms a ribbon when the beaters are lifted, about 8 minutes. Don't cook the zabaglione for too long, or it will curdle.
Remove the zabaglione from the heat and whisk in the remaining 1 tablespoon of olive oil. Carefully set the bowl in the ice bath and whisk the zabaglione until chilled, about 5 minutes.
To serve, add the bread cubes and mint to the fruit in the bowl and toss well. Transfer the panzanella to shallow bowls, top each one with a large dollop of zabaglione and serve right away.
Serves 10.
Information
Category

Fruit, Desserts

Cuisine

Italian
Ingredients
2 tomatoes, cut into bite-size pieces
1 small cucumber, peeled and sliced
1 small red onion, thinly sliced
1 cup fresh basil leaves, torn into small pieces
1/2 cup extra-virgin olive oil, plus more as needed
3 Tbs. balsamic or red wine vinegar, plus more as needed
Salt and freshly ground pepper, to taste
6 to 8 thick slices country-style white bread, torn into bite-size pieces
Directions
In a bowl, combine the tomatoes, cucumber, onion and basil. Drizzle with the 1/2 cup olive oil and the 3 Tbs. vinegar, season with salt and pepper and toss well.
Place half of the bread in a wide, shallow bowl. Spoon half of the tomato mixture over the bread. Layer the remaining bread on top and then the remaining tomato mixture. Cover and refrigerate for 1 hour.
Just before serving, toss the salad and adjust the seasonings with salt and pepper. If the bread seems dry, add a little oil or vinegar. Serve immediately.
Serves 4 to 6.
Information
Category

Salads, Bread

Cuisine

Italian