Sweet and Savory Recipes For Pineapple Salad
Pineapple Salad Two Ways — Sweet and Savory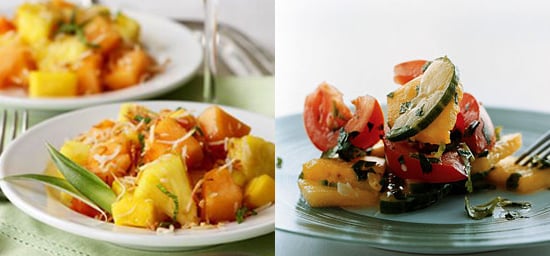 These days, pineapples are available year-round at the store, so you may not know that they're actually at their peak between the months of March and July. The best way to enjoy these tropical fruits? Skip the can and select the largest, plumpest specimen you can find, preferably one with a little give. Trim and cut it — then savor its succulence with a fresh fruit salad.
Pineapples have traditionally been employed in tropical fruit salads, where they complement the flavors of papayas, mangoes, and toasted coconut. But don't overlook a savory application. Combine the fruit with cucumbers, tomatoes, and herbs in a fiery Asian vinaigrette for a sweet-hot twist. Make it a full meal by adding shredded rotisserie chicken or garlicky grilled shrimp. Aching for a taste of the tropics? Decide whether to go the sweet or salty route when you read more.
Ingredients
1/2 cup shredded coconut
1 ripe pineapple, peeled, cored and cut into 1/2-inch chunks
1 ripe papaya, peeled, seeded and cut into 1/2-inch chunks
1 ripe cantaloupe, peeled, seeded and cut into 1/2-inch chunks
1 ripe mango, peeled, pitted and cut into 1/2-inch chunks
6 fresh mint leaves
Directions
Preheat an oven to 350°F.
Spread the coconut on a baking sheet and toast in the oven until golden, about 5 minutes. Set aside to cool.
In a large bowl, combine the pineapple, papaya, cantaloupe and mango. Cover and refrigerate until ready to serve. Just before serving, sprinkle with the toasted coconut and spoon onto small plates. Garnish with the mint leaves.
Serves 6 to 8.
Information
Category

Salads, Fruit
Savory Pineapple Salad
From Gourmet
Ingredients
1 large garlic clove
1/4 teaspoon salt
2 tablespoons fresh lime juice
1 tablespoon sugar
2 tablespoons vegetable oil
1 (2-inch-long) fresh serrano or jalapeño chile, minced, including seeds
1/4 to 1/2 teaspoon Asian fish sauce
1/2 seedless cucumber (often plastic-wrapped), halved lengthwise, then thinly sliced crosswise
1/2 pineapple, peeled, quartered lengthwise, cored, then sliced crosswise 1/4 inch thick (2 cups)
1/2 cup coarsely chopped fresh cilantro
1/4 cup coarsely chopped fresh mint
2 medium tomatoes (1 lb total), cut into 1/2-inch-thick wedges
Directions
Mince garlic, then mash to a paste with salt using side of a large heavy knife.
Whisk together lime juice and sugar in a large bowl until sugar is dissolved, then whisk in oil, garlic paste, chile, and fish sauce (to taste). Add remaining ingredients, tossing to coat, and add salt to taste.
Makes 6 servings.
Information
Category

Salads

Cuisine

Other