Sweet and Savory Recipes For Popcorn
Popcorn Two Ways — Sweet and Savory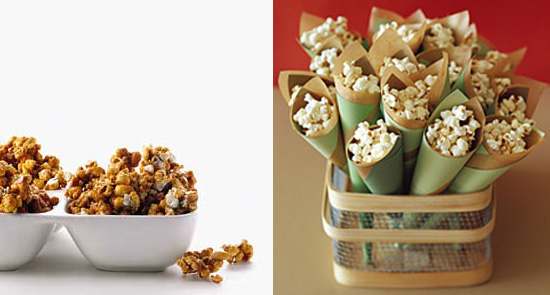 Just in time for Earth Day, PBS is airing the Academy Award-nominated documentary Food Inc. tomorrow night, and I'm hosting a get-together for all my friends who haven't had a chance to catch the movie until now. I'm keeping it low-key, and won't be serving dinner at the gathering, but plan to offer two different bowls of gourmet popcorn to munch on during the film. One will be tossed with Southwestern spices for a bit of savory sizzle; its counterpart, a caramel cluster version, ought to satisfy a sweet tooth. See both offerings — and make them for your own viewing party! — when you read more.
Ingredients
2 tablespoons vegetable oil
1/3 cup popcorn kernels
1 stick (1/2 cup) unsalted butter
1-1/2 cups packed light brown sugar
1/2 cup light corn syrup
3/4 teaspoon salt
1/2 teaspoon baking soda
1 cup salted peanuts (5 oz)
Special equipment: a candy thermometer
Directions
Heat oil with 3 kernels in a 3-quart heavy saucepan, covered, over moderate heat until 1 or 2 kernels pop. Remove lid and quickly add remaining kernels, then cook, covered, shaking pan frequently, until kernels stop popping, about 3 minutes. Remove from heat and uncover.
Line bottom of a large shallow baking pan with foil. Lightly oil foil. Melt butter in a 6-quart heavy pot over moderate heat. Add brown sugar and corn syrup and bring to a boil over moderate heat, stirring, then boil, without stirring, until syrup registers 300°F on thermometer, 8 to 10 minutes. Remove pot from heat.
Using a wooden spoon or a heatproof spatula, stir salt and baking soda into syrup, then quickly stir in peanuts and popcorn to coat. Immediately spread mixture in baking pan as thinly and evenly as possible. Cool completely, then break into bite-size pieces.
Makes about 12 cups.
Information
Category

Other, Snacks

Cuisine

North American
Ingredients
1/8 teaspoon crushed red-pepper flakes
1/2 teaspoon cumin seeds
1/2 teaspoon coriander seeds
3/4 teaspoon garlic powder
1/4 teaspoon freshly ground pepper
1/4 teaspoon dry mustard
1 tablespoon vegetable oil
1/2 cup popcorn kernels
1/4 cup fresh lime juice
6 tablespoons unsalted butter
coarse salt
Directions
Place pepper flakes, cumin, and coriander in a spice grinder; grind until fine. Transfer to a small bowl, and stir in garlic powder, pepper, and mustard until combined. Set aside.
Heat a 4-quart pot over medium-high heat, and add oil. When oil is hot, pour in popcorn kernels. Cover, and keep pan over heat until first kernel pops. Shake pan gently, close to burner; continue shaking until kernels stop popping, 4 to 5 minutes.
Bring lime juice to a boil in a small skillet over medium heat. Reduce heat; cook until liquid is reduced to 1/2 tablespoon. Add butter, and swirl to melt; add spice mixture. Drizzle over popcorn while stirring to coat evenly. Season with salt, and toss. This popcorn is best eaten the day it is prepared.
Makes 1 gallon.
Information
Category

Other, Snacks

Cuisine

North American