Sweet and Savory Recipes For Root Vegetables
Root Vegetables Two Ways — Sweet and Savory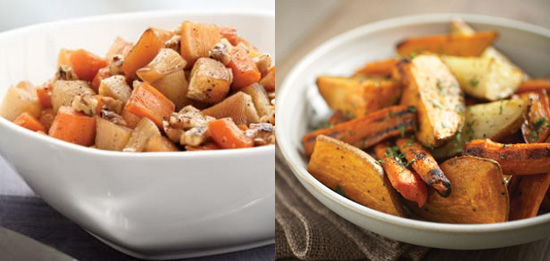 Root vegetables have taken, well, root for the time being — at least until days go back to being longer and sunnier. Since these healthy vegetables will be abound all Winter, why not get acquainted with cooking them in different ways?
Although they're delicious in lasagna, gratins, and hashes, the most straightforward preparation is to roast them (carrots, parsnips, rutabagas, potatoes, or any other related roots) and then serve them with light seasonings.
For an even more exciting assortment of flavors, experiment by offering your root vegetable medley two ways — one sweetened with an apple cider and sugar glaze, and the other made savory with the help of smoked wood chips. Decide which dish you like more when you keep on reading.
Ingredients
3 pounds assorted root vegetables, peeled (such as carrots, parsnips, rutabaga, and turnips) and cut into 1-inch pieces
1 cup apple cider
1/4 cup dark brown sugar
1/2 teaspoon salt, plus more to taste
1/4 teaspoon freshly ground pepper
1/2 cup chopped walnuts
1 tablespoon butter
1/8 teaspoon ground cinnamon
Directions
Preheat oven to 400 degrees F.
If using parsnips, quarter lengthwise and remove the woody core before cutting into 1-inch pieces. Whisk cider, brown sugar, 1/2 teaspoon salt and pepper in a 9-by-13-inch baking dish until the sugar is dissolved. Add root vegetables and toss to coat. Cover the baking dish with foil.
Bake for 20 minutes. Uncover and stir the vegetables. Continue cooking, uncovered, stirring every 20 minutes or so, until the vegetables are glazed and tender, about 1 hour more.
Meanwhile, place walnuts in a small skillet and cook over medium-low heat, stirring constantly, until fragrant and lightly browned, 2 to 6 minutes. Remove from the heat and add butter, cinnamon and a pinch of salt. Stir until the butter melts and the nuts are coated. Spread out on a plate to cool slightly.
Transfer the vegetables to a serving dish and sprinkle with the cinnamon walnuts.
Makes 6 servings, about 3/4 cup each.
Information
Category

Vegetables, Side Dishes

Cuisine

North American
Ingredients
2 large carrots, cut into 2-inch chunks
2 medium-size unpeeled russet potatoes, cut into 2-inch chunks
2 medium-size unpeeled sweet potatoes, cut into 2-inch chunks
1/4 cup extra-virgin olive oil, plus more for drizzling
Fine sea salt and freshly ground black pepper
2 tablespoons chopped fresh flat-leaf parsley, for garnish
Special equipment: Cherry, oak, or pecan wood chips
Directions
Toss the vegetables with the olive oil and season with salt and pepper to taste. Place the mixture on an 8 x 12-inch piece of heavy-duty aluminum foil or in a disposable aluminum pan.
Fill your charcoal chimney with briquettes, set the chimney on the bottom grill grate, and light, or prepare a fire in your smoker. For a gas grill, turn half the burners to medium.
When the coals are ready, dump them into the bottom of your grill, and spread them evenly across half. Scatter the wood chips on the hot coals or place them in a metal container as close as possible to a burner on a gas grill. Place the vegetables on the indirect-heat side. Close the lid.
Smoke at 350 degrees F for 45 to 60 minutes or until the potatoes are tender and the vegetables have a good, smoky aroma. Transfer the vegetables to a platter, drizzle with a little more olive oil if desired, and garnish with the chopped parsley.
Serves 4.
Information
Category

Vegetables, Side Dishes

Cuisine

North American