Sweet and Savory Recipes For Shortbread Cookies
Shortbread Two Ways — Sweet and Savory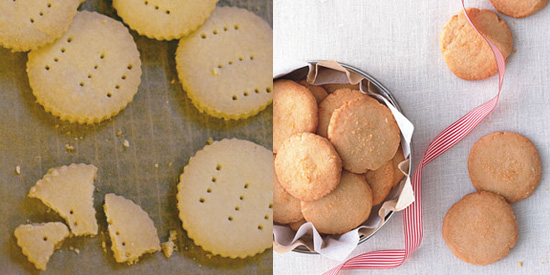 Over a thoroughly enjoyable bite of blackberry fool, I couldn't help but dream about a crumbly, larden shortbread round to dust off with it. So tonight, while I've still got some blackberry dessert in the icebox, I think I'm going to bake up a batch of shortbread coins to go along with.
A traditional shortbread is truly spare of ingredients, calling only for butter, flour, and sugar. In fact, it's so simple that I plan to experiment with other add-ins just for fun, like the addition of garlic, pepper, and Parmesan cheese to form savory, bite-sized shortbread coins that can be served with any manner of cheese or charcuterie. Want to follow suit with the same idea? Then get both recipes when you read on.
Ingredients
8 oz. unsalted butter, softened
½ cup granulated sugar
2 ½ cups all-purpose flour, sifted, plus more as needed
Directions
Heat oven to 325 degrees. Line 2 baking sheets with parchment paper. With a hand mixer or a standing mixer fitted with a paddle, beat butter and sugar on medium speed, scraping down the bowl occasionally with a rubber spatula, until light and silky, about 6 minutes. With a large rubber spatula, gently fold in the flour. Scrape dough onto a lightly floured surface and divide into 4 pieces.
Using the palm of your hand, pat one portion of dough until it is flattened to a ¼" thickness. With a rolling pin, roll once lightly over the dough to smooth the top; then, using a long spatula, loosen it from the work surface.
Using a fluted 2 1/2" round cookie cutter, cut out cookies and place them about 1" apart on the lined baking sheets. Repeat with remaining dough, pressing and rerolling the scraps until all the dough is used up. Using a fork, pierce each cookie 2 or 3 times. Bake, rotating pans halfway through baking, until golden, about 20 minutes. Let shortbreads cool completely on pans set on a baking rack, then store in tins layered with wax paper.
Makes 2-1/2 dozen cookies.
Information
Category

Desserts, Cookies

Cuisine

English/Scottish/Irish
Ingredients
1 3/4 cups all purpose flour
3/4 cup plus 2 tablespoons grated Parmesan cheese (about 2 1/2 ounces)
1 teaspoon coarse kosher salt
1/2 small garlic clove, minced
Pinch of cayenne pepper
1 cup (2 sticks) chilled unsalted butter, cut into 1/2-inch cubes
Directions
Preheat oven to 350°F. Line baking sheet with parchment paper. Mix flour, 3/4 cup Parmesan cheese, salt, garlic, and cayenne pepper in processor. Add butter and, using on/off turns, process until dough begins to come together. Gather dough into ball. Divide dough in half. Roll each half into 12-inch log, and cut each log into 1-inch pieces. Roll each piece into ball. Arrange dough balls on prepared baking sheet, spacing about 1 1/2 inches apart. Press each ball into 2-inch-diameter round. Sprinkle remaining 2 tablespoons Parmesan cheese over.
Bake shortbread rounds until tops are dry and bottoms are golden brown, about 20 minutes. Transfer shortbread rounds to rack and cool completely. DO AHEAD: Shortbread rounds can be made 1 week ahead. Store rounds in airtight container at room temperature, or freeze up to 1 month.
Makes 24.
Information
Category

Snacks, Crackers