Sweet and Savory Recipes For Strawberry Risotto
Strawberry Risotto Two Ways — Sweet and Savory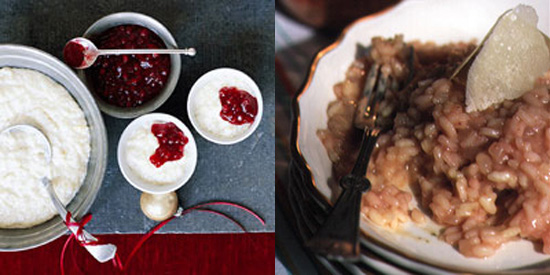 In my search to find exemplary strawberry dishes, I encountered bushels of dessert recipes for tarts, shortcakes, and everything in between. Yet it was when I stumbled upon an unconventional use for the garden strawberry that I found myself most intrigued. One of the most interesting recipes, for an unorthodox risotto, takes the strawberry in a savory direction similar to that of strawberry spaghetti, calling for other ingredients such as chicken stock, parmigiano-reggiano, and pepper. Not feeling like salt with your strawberries? Well, it's impossible to forget that they make a fine addition to a sweet rice pudding as well. Make one — or both — when you read more.
Ingredients
1 quart whole milk
1 quart half-and-half
1 cup sugar
2-1/2 cups uncooked Arborio rice
1/2 teaspoon salt
1 vanilla bean, split
4 to 6 whole cloves, tied in a 100-percent-cotton cheesecloth bag
Strawberry sauce
Directions
In a 3-1/2- or 4-quart slow cooker stir together milk, half-and-half, sugar, rice, and salt. Add vanilla bean and cloves. Cover and cook on low heat setting for 5 hours. Do not stir.
Remove vanilla bean and cloves. Let stand 15 to 30 minutes before serving. (If pudding gets too thick upon standing, stir in additional milk to make desired consistency.) Serve warm or chilled with strawberry sauce.
Makes 16 servings.
Information
Category

Fruit, Desserts

Cuisine

North American
Savory Strawberry Risotto
From Saveur
Ingredients
3 cups chicken stock
1 cup strawberries, washed and hulled
2 tablespoons butter
1 cup arborio rice
1/4 cup white wine
3/4 cup freshly grated parmigiano-reggiano
Salt and freshly ground pepper
Directions
Bring chicken stock to a boil over high heat. Add strawberries and blanch for 30 seconds. Remove berries, purée in a food processor, and set aside. Turn off heat and cover stock.
Melt butter in a heavy pan over low heat. Add rice and stir constantly for 1 minute. Add wine, cooking till absorbed. Add stock, 1⁄2 cup at a time, stirring constantly; allow rice to absorb each 1⁄2 cup before adding more. Rice should cook in about 25 minutes. Remove from heat.
Stir in berries and parmigiano-reggiano. Season with salt and pepper.
Serves 4.
Information
Category

Rice, Main Dishes

Cuisine

Italian