Sweet and Savory Recipes For Summer Soup
Summer Soup Two Ways — Sweet and Savory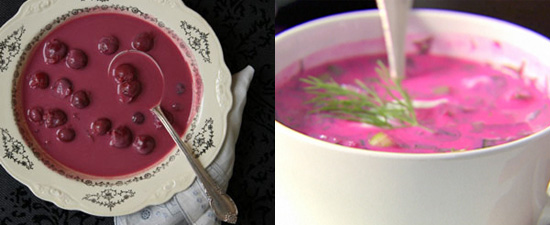 If you're a fan of cold soups like I am, I'm sure you'll agree they're the perfect midday refreshment during one of Summer's heat waves.
Although gazpacho takes a lot of credit for its cooling properties, don't discount other traditional warm-weather favorites, like the chilled version of the Eastern European soup known as borscht. The soup's beets, aside from having a nice depth of flavor, also provide a powerful flash of fuchsia color.
Not to be overlooked are the season's ripe fruits for sweet soups as well. If you're already serving borscht, why not create an ultra-playful menu by also serving a blush-hued soup for dessert? Offer another Eastern European favorite, Meggyleves, made from sour morello cherries. For both recipes, keep reading.
Ingredients
2 24-oz. jars of pitted sour cherries (preferably morellos), with their juice (Alternatively, you may use 1 3⁄4 lbs. fresh bing cherries, stemmed and pitted, or 1 1⁄2 lbs. frozen bing cherries with 2 3⁄4 cups sour or regular cherry juice.)
1⁄2 tsp. kosher salt
1 cinnamon stick
1 1⁄2"-thick slice of lemon
1 8-oz. container sour cream
Directions
Add jars of cherries, with their juice, to a 4-quart saucepan. Add salt, cinnamon stick, and lemon. Bring to a boil, reduce heat to medium-low, and simmer until cherries are soft, about 5 minutes.
In a small bowl, whisk together sour cream and 1⁄4 cup of hot cherry liquid from pan. Remove pan from heat; stir in sour cream mixture. Chill the soup.
Serves 4 to 6 as a dessert.
Information
Category

Fruit, Desserts

Cuisine

Russian/Eastern European
Ingredients
5 medium fresh beets (about 2 pounds without tops)
Kosher salt
2 cups chicken stock, preferably homemade
16 ounces sour cream, plus extra for serving
1/2 cup plain yogurt
1/4 cup sugar
2 tablespoons freshly squeezed lemon juice
2 teaspoons Champagne vinegar
1 1/2 teaspoons freshly ground black pepper
2 cups medium-diced English cucumber, seeds removed
1/2 cup chopped scallions, white and green parts
2 tablespoons chopped fresh dill, plus extra for serving
Directions
Place the beets in a large pot of boiling salted water and cook uncovered until the beets are tender, 30 to 40 minutes. Remove the beets to a bowl with a slotted spoon and set aside to cool. Strain the cooking liquid through a fine sieve and also set aside to cool.
In a large bowl, whisk together 1 1/2 cups of the beet cooking liquid, the chicken stock, sour cream, yogurt, sugar, lemon juice, vinegar, 1 tablespoon salt, and the pepper. Peel the cooled beets with a small paring knife or rub the skins off with your hands. Cut the beets in small to medium dice. Add the beets, cucumber, scallions, and dill to the soup. Cover with plastic wrap and chill for at least 4 hours or overnight. Season, to taste, and serve cold with a dollop of sour cream and an extra sprig of fresh dill.
Serves 6.
Information
Category

Other, Soups/Stews

Cuisine

Russian/Eastern European