Sweet and Savory Recipes For Tomato Jam
Tomato Jam Two Ways — Sweet and Savory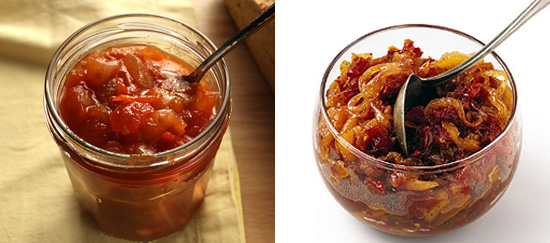 After making a savory version of French toast topped with tomato jam last weekend, it occurred to me that, when preserved, tomatoes are well-suited for both sweet and savory applications, too. Tomatoes are technically fruit, and when they're ripe they possess a level of sweetness that rivals a sassy nectarine. This means the seedy red rounds are ideal contenders for a traditional fruit jam style, spread atop bread or toast. But unlike most fruits, tomatoes also register high in glutamic acid, an umami provider that contributes to a savory, rounded flavor — so they're just as dreamy when reduced to peppery, vinegar-tinged preserves, then served atop meat roasts or crackers.
Make the most of the tapering tomato supply by preparing either — or both — jams when you read more.
Sweet Tomato Jam
From Chow
Ingredients
2 pounds Roma tomatoes, cored and cut into medium dice
1 cup small-dice yellow onion (about 1/2 medium onion)
1/2 cup granulated sugar
1/2 cup packed light brown sugar
2 tablespoons cider vinegar
2 tablespoons freshly squeezed lemon juice
3/4 teaspoon salt
1/4 teaspoon ground cumin
1/4 teaspoon freshly ground black pepper, plus more as needed
1 (3-inch) cinnamon stick
Directions
Place all ingredients in a medium saucepan and stir to combine. Bring to a boil over medium-high heat, about 5 minutes.
Reduce heat to low and simmer so that just the center of the mixture is bubbling. Cook, stirring occasionally, until the mixture has thickened (when you scrape the bottom of the pan with a spoon, the line should hold and not run back into itself), about 2 1/2 hours.
Remove from heat and season with additional pepper as desired. Let cool completely and refrigerate in a container with a tightfitting lid for up to 5 days.
Makes 2 cups.
Information
Category

Condiments/Sauces, Jellies/Jams

Cuisine

North American
Ingredients
3 medium onions, halved lengthwise and thinly sliced crosswise
3 tablespoons unsalted butter
1/3 cup sugar
1/2 teaspoon salt
1/4 teaspoon black pepper
1/8 teaspoon dried hot red pepper flakes
1/2 cup dry white wine
1 tablespoon red-wine vinegar
1/4 cup packed dried apricots, thinly sliced
3/4 cup drained oil-packed sun-dried tomatoes, chopped
Directions
Cook onions, butter, sugar, salt, pepper, and red pepper flakes, covered, in a 10-inch heavy skillet over low heat, stirring occasionally, until onions are soft and pale golden, about 30 minutes. Add wine, vinegar, apricots, and tomatoes and simmer, uncovered, stirring occasionally, until thick, 20 to 30 minutes. Serve at room temperature.
Makes about 2 cups.
Information
Category

Condiments/Sauces, Jellies/Jams

Cuisine

North American