Sweet and Savory Recipes For Waffles
Waffles Two Ways — Sweet and Savory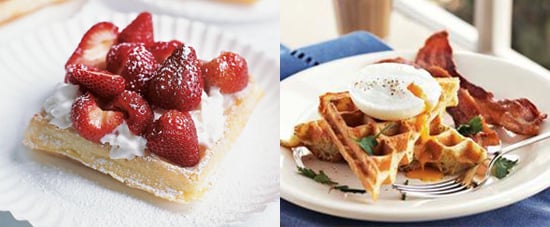 While one of my fellow editors enjoys a leisurely meal on her front patio this Mother's Day, I'll be celebrating with classic breakfast food: waffles. Since I hate choosing between sweet and savory dishes when out to brunch, I'm going to eliminate the choice on Sunday and serve breakfast options that satisfy a penchant for both sugar and salt.
We'll begin with waffles served the traditional Belgian way, sprinkled with confectioner's sugar. To up the ante, I'm also including freshly whipped cream and strawberries to top them off. And before any palates suffer from sweet fatigue, I'll bring in a savory version, studded with chives, rosemary, and grated Parmigiano-Reggiano, then topped with irresistible bacon and poached eggs. Envious? Stun your mom with the same choices when you read more.
Ingredients
1-3⁄4 cups self-rising flour, preferably Aunt Jemima brand
1 tsp. granulated sugar
4 eggs, separated
1 1/4 cups of water
1⁄2 tsp. vanilla extract
16 tbsp. (2 sticks) unsalted butter, melted
4–6 cups whipped cream
2 pints ripe, in-season strawberries, hulled and halved
Confectioners' sugar
Directions
Heat an electric Belgian waffle iron until very hot.
Meanwhile, combine flour and granulated sugar in a large mixing bowl. Add 1 1⁄4 cups water, egg yolks, and vanilla and whisk until smooth. Whisk in melted butter. Beat egg whites in a medium mixing bowl with an electric mixer on medium speed until frothy, 1–2 minutes, then increase speed to high and beat until stiff peaks form, about 1 minute. Gently but thoroughly fold half the egg whites at a time into batter.
Pour about 1 cup of the batter (or enough batter to fill pockets in iron) into hot waffle iron; immediately lower waffle iron lid and cook until waffles are golden-brown and crisp, about 5 minutes. Separate sheet of waffles into individual waffles. Repeat process with remaining batter.
4. To serve, put each hot waffle on a plate, top with a pile of whipped cream and strawberries, and sprinkle with some confectioners' sugar.
Makes 8.
Information
Category

Breakfast/Brunch, Pancakes/Waffles

Cuisine

Other
Ingredients
4 eggs, separated
2 cups milk
2/3 cup unsalted butter, melted
1 cup grated Parmigiano-Reggiano cheese
1/3 cup minced fresh flat-leaf parsley
2 1/2 Tbs. minced fresh chives
1/2 tsp. minced fresh rosemary
2-1/3 cups all-purpose flour
tsp. baking powder
1-1/4 tsp. salt
Poached eggs and bacon for serving
Directions
Preheat a waffle maker on medium-high heat according to the manufacturer's instructions. Preheat an oven to 200°F.
In a large bowl, whisk together the egg yolks, milk, butter, cheese, parsley, chives and rosemary. Over a sheet of waxed paper, sift together the flour, baking powder and salt. Add the flour mixture to the yolk mixture and whisk until smooth.
In another bowl, whisk the egg whites until stiff peaks form. Using a rubber spatula, fold one-third of the whites into the batter, then carefully fold in the remaining whites.
Pour 1/2 cup of the batter into each well of the waffle maker. Close the lid and cook according to the manufacturer's instructions until the waffles are golden brown and crisp, about 6 minutes. Transfer the waffles to a wire rack set on a baking sheet and keep warm in the oven while you cook the remaining waffles.
Serve the waffles warm with poached eggs and bacon.
Serves 4 to 6.
Information
Category

Breakfast/Brunch, Pancakes/Waffles

Cuisine

North American