Sweet and Savory Spring Tart Recipes
Spring Tart Two Ways — Sweet and Savory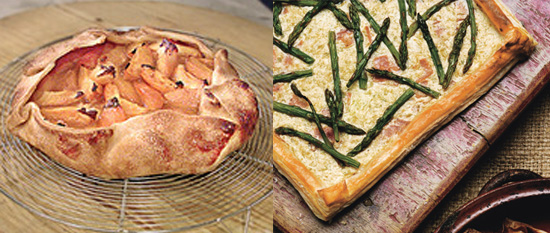 Spotting flawless asparagus, artichokes, and strawberries in markets this month is exciting enough to want to shout "Spring's here!" from the rooftops. Instead, celebrate the season by highlighting peak produce in an unexpected way: as the star ingredient of a delicate baked tart. Envelop ripe apricots in a simple pie crust to make a free-form dessert. Or, if you're looking for a savory main, top store-bought puff pastry with umami-laden asparagus stalks and Comté cheese. For recipients of either dish, your enthusiasm for the greenmarket is sure to be infectious. Whet your appetite for both recipes when you keep reading.
Ingredients
All-purpose flour, for dusting
1/2 recipe Pate Brisee (Pie Dough)
8 firm but ripe apricots (about 1 1/2 pounds), pitted and cut into sixths
1/4 cup plus 1 tablespoon sugar, plus more for sprinkling
1-1/2 tablespoons cornstarch
Pinch of salt
1 teaspoon freshly squeezed lemon juice
Zest of 1/2 lemon
1 tablespoon heavy cream
Directions
Preheat oven to 425 degrees. Line a baking sheet with parchment paper or a Silpat baking mat, and set aside on a floured surface. Roll dough out to a 14-inch circle, and place on paper.
In a medium bowl, toss apricots together with sugar, cornstarch, salt, lemon juice, and zest. Place apricot mixture on the center of the dough. Spread out, leaving a 2-inch border of dough; turn ends of apricots upward. Fold the dough up and over the apricots, making a crease or fold every 4 to 5 inches to enclose fruit and prevent juices from seeping out.
Brush dough thoroughly with heavy cream; sprinkle with sugar. Bake for 15 minutes, and lower oven temperature to 375 degrees, rotating baking sheet 45 degrees. Continue to bake until tart is evenly browned and apricots are bubbling, about 25 minutes more.
Transfer tart from baking sheet to a cooling rack, and cool completely. Serve warm or at room temperature.
Makes two 9-inch tarts.
Information
Category

Desserts, Pies/Tarts

Cuisine

North American
Ingredients
1 sheet frozen puff pastry (half of 17.3-ounce package), thawed
1 egg, beaten to blend
1 pound slender asparagus spears, trimmed
1/2 cup whole-milk ricotta cheese
4 teaspoons extra-virgin olive oil, divided
1/8 teaspoon salt
1-1/2 ounces thinly sliced soppressata or other salami, cut into 1/2-inch pieces
2/3 cup grated Comté or gruyere cheese (about 3 ounces), divided
Directions
Preheat oven to 400°F. Roll out pastry on floured surface to 13x10-inch rectangle. Cut off 1/2-inch-wide strip from all 4 sides. Brush strips on 1 side with some of beaten egg, then press strips, egg side down, onto edges of pastry to adhere, forming raised border. Brush border with egg; reserve remaining beaten egg. Transfer to baking sheet. Chill while preparing filling.
Steam asparagus just until crisp tender, about 3 minutes. Transfer to bowl of ice water to cool. Drain. Cut off top 2 to 3 inches of asparagus tops; set aside. Coarsely puree remaining asparagus stalks in processor. Add remaining beaten egg, ricotta, 3 teaspoons oil, and salt;process until thick puree forms. Transfer to bowl; stir in salami and 1/3 cup Comté cheese; season with pepper. Spread mixture evenly over pastry. Sprinkle with remaining 1/3 cup Comté cheese. Toss asparagus tips with remaining 1 teaspoon oil; arrange tips over filling.
Bake tart until filling is set, about 25 minutes. Serve warm or at room temperature.
Serves 6 to 8 as an appetizer or 4 as a main course.
Information
Category

Other, Main Dishes

Cuisine

North American