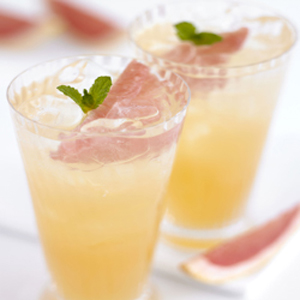 As temperatures begin to warm up for Summer, refreshing and delicious beverages can help us beat the heat. Although 100-percent Florida grapefruit juice is a tasty, nutrient-rich delight all on its own, it also becomes the perfect complement to other foods by adding a unique punch of bold flavor to your favorite everyday recipes. After all, grapefruit is one of the most versatile fruits and juices available, and it can easily fit into every woman's regimen to help keep her looking and feeling her best.
Try this tangy-sweet Pink Grapefruit Mint Cooler, which is great for relaxing poolside with your girlfriends!
2 cups 100-percent pink Florida grapefruit juice
1 bunch fresh mint, reserve 6 sprigs for garnish
4 tablespoons fresh lemon juice
1/2 cup water
1/2 cup sugar
2 1/2 cups club soda
In a large pitcher, crush mint leaves lightly and add grapefruit juice. Infuse at room temperature for 30 minutes, then add lemon juice. Heat the water until very hot; dissolve sugar in the water to make sugar syrup. Add sugar syrup to the grapefruit mixture to taste and stir well. Fill six tall glasses half full with the mixture, add cubed ice and top with club soda. Garnish with fresh mint sprigs, and enjoy!
For more delicious recipes, visit www.GoFloridaGrapefruit.com