Tart and Sweet Pomegranate-Mango Guacamole I love avocados especially in the form of a chunky, flavorful guacamole. When I found a recipe that included one of my favorite Fall fruits, pomegranate seeds, I was thrilled! I served this colorful and simple guacamole with tortilla chips, but it would be a great addition to tacos and delicious on grilled pork.
Each bite of this guacamole is perfectly balanced. The texture of the creamy avocado is offset by the spicy serrano chili. The juicy and sweet mango contrasts with the occasional burst of crunchy and tart pomegranate seeds. If you want to enjoy this scrumptious, distinctive guacamole,
.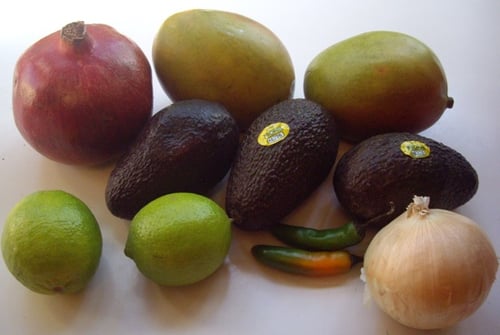 Pomegranate Mango Guacamole
From Gourmet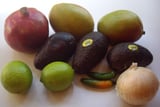 Ingredients
3 ripe avocados
1/2 white onion, finely chopped
1 serrano chili, finely chopped, including seeds
1 lime, juiced
1/2 cup pomegranate seeds
3/4 cup diced peeled mango
1/2 cup chopped cilantro
1 1/4 teaspoon coarse salt
Directions
Cut the mango in half lengthwise. With a small sharp knife score the flesh both horizontally and vertically. Pushing on the skin of the mango, flip it inside out and cut off the flesh from the skin.
To remove the pomegranate seeds, cut the pomegranate in half and submerge in a large bowl of water then gently peel to remove all of the seeds.
Halve, pit, and peel avocados. Coarsely mash in a bowl. Stir in onion, chiles, 1/4 cup lime juice, and 1 1/4 teaspoons salt, then fold in pomegranate seeds, mango, and cilantro. Season with salt and additional lime juice.
Serves 6-8 people.
Information
Category

Dips, Appetizers