Taste Test: Cheetos Mighty Zingers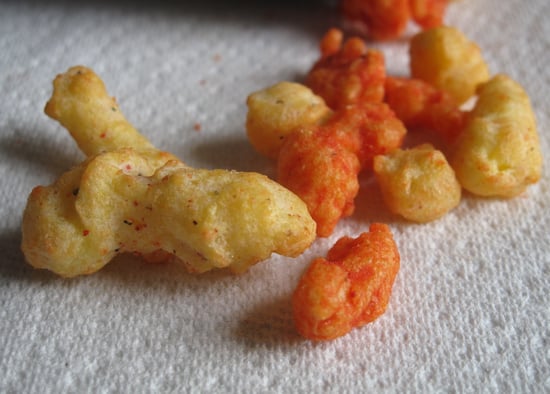 Move over, Doritos Late Night Tacos at Midnight. I've found something better than you, and it's a bag of Cheetos Mighty Zingers. Everyone has a weak spot for certain foods, and one of mine is Cheetos. When I walk by the snack aisle at the store, I literally have to turn away so I don't make eye contact with the Flamin' Hot Cheetos, otherwise they'll come home with me. Unfortunately, I couldn't exercise the same self-control when we received a shipment of Mighty Zingers. Just how amazing were they? Keep reading to find out.
If you have a predilection for all things mini, Frito-Lay is calling these flavor-packed chips, which launched at the beginning of this month, "the tiniest Cheetos snacks ever made." Thus far, the new line offers two selections, Ragin' Cajun & Tangy Ranch and Sharp Cheddar & Salsa Picante, both filled with a duo of miniature Cheetos nuggets in two complementary flavors.
Sharp Cheddar & Salsa Picante: The favorite of the tasters. Alone, the sharp cheddar was very similar to a standard Cheeto, while the salsa picante had an earthy, red pepper quality to it.
Ragin' Cajun & Tangy Ranch: Although most preferred the other flavor, PartySugar and I couldn't get enough of this one's spicy ranch notes. The Ragin' Cajun bites were reminiscent of a Flamin' Hot Cheeto, only slightly sweeter.
Mighty Zingers are designed to be eaten by the handful so snackers can get a mix of both flavors, and come with a perforated tab for pouring into snack bowls — or directly into your mouth. While they're not as easy to eat because of their smaller size, it's exciting to get a different taste with each bite. These addictive pebbles would be great paired with cold beer at a sporting event, or even better, as a snack after drinking into the wee hours of the morning. Have you tried them? Which flavor did you prefer?