Taste Test: Kraft Macaroni and Cheese Cheddar Explosion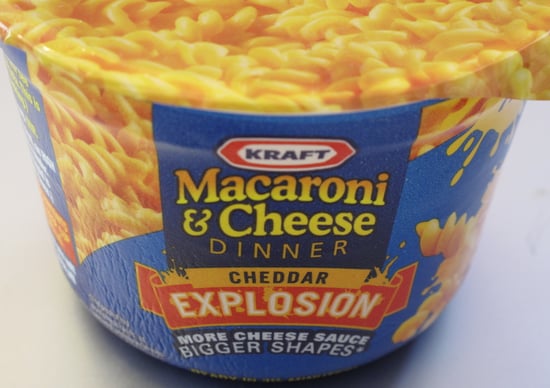 I eschew processed foods, but with a few glaring exceptions — like anything with processed cheese. (Yes, I already realize I can't reconcile sustainably raised seafood and organic, local produce with Velveeta chile con queso. And no, I have no plans to ever change that.) You should've seen the cheesy grin (no pun intended) that spread across our faces when a giant box of Kraft's latest macaroni and cheese arrived. With an active name like Cheddar Explosion, how could one not feel a blast of giddiness? We were excited to test it out, and I even used the occasion as an excuse to make the stovetop original for comparison. What were our ultimate thoughts? Find out when you keep reading.
Kraft's Cheddar Explosion promises a "bigger blast of cheese sauce" with bigger shapes. We compared the Cheddar Explosion Macaroni & Cheese Dinner Cups with the original stovetop version from the box, and the spirals were indeed larger and more tightly wound. It had the same flavor as the standard, just much more intense — as though someone had dumped twice the amount of cheese powder into the bowl. If you don't like processed cheese, then stay far away; if you do, know that it was cheddar product overload, in the best way possible.
"Why don't they just make all of it like this?" PartySugar asked, to which I had no good answer. The more instant version in a cup was too soupy for our liking, but in the future, should we ever have a hankering for Kraft's macaroni, we'll be reaching for the boxed version of the Cheddar Explosion. Also, I can't wait to try the brand's baked Homestyle renditions. Have you had any of Kraft's new concepts?