Taste Test: MGD 64 Lemonade
MGD's Low-Cal Lemonade Beer Hybrid Tastes Like It Sounds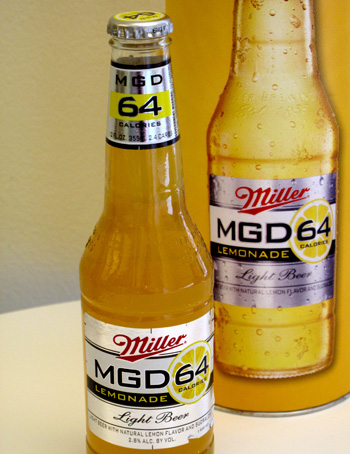 Just in time for warm-weather cookouts, MillerCoors has announced the launch of a new drink, MGD 64 Lemonade. That's right: MGD 64 flavored to taste like lemonade. We got our hands on a preview of the limited-edition drink, which hits shelves come May 1, and is expected to be in stock through Labor Day.
This drink tastes exactly like how it sounds — like it's half-beer, half-lemonade, and all low-calorie. Scratch that: it's a little heavy-handed on the lemonade, meaning it's more like 20 percent beer and 80 percent artificially flavored lemonade. "My 18-year-old self would've loved this!" Katie exclaimed. "It's a little too sweet," Lauren added. "I'd rather just have a regular beer."
Personally, I'd opt for a genuine shandy instead. Nonetheless, the MGD 64 Lemonade was refreshing with a bowl of chips and salsa — and without the malty, yeasty flavor of a traditional brewski, it'll be an ideal gateway drink for somebody who'd rather drink a Mike's Hard Lemonade than a hoppy beer. Will you buy it once you see it on shelves?