Taste Test: Milky Way Simply Caramel
Taste-Off: Milky Way Original vs Simply Caramel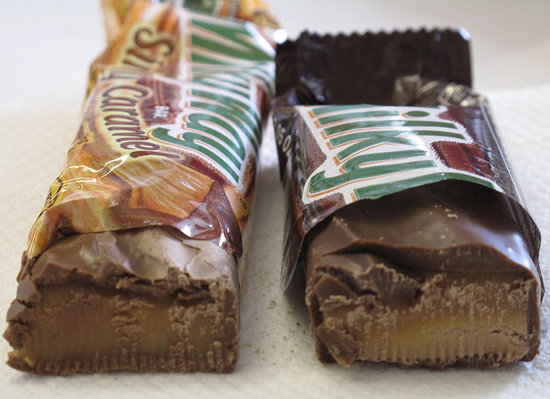 It's been a while since I've consumed a traditional candy bar, but I'm a sucker for comparison taste tests, so when we received a shipment of Milky Way's latest product, Simply Caramel, I was dying to compare it to the original.
Unlike the classic Milky Way, which contains a layer of nougat under a layer of caramel, the interior of the Milky Way Simply Caramel is — you guessed it — nothing but caramel. I was expecting it to taste a bit like Rolos, only in bar form. In the end, I wasn't too far off — compared to a Rolo, the Simply Caramel had a milder, less pronounced caramel flavor.
It's ironic that the Simply Caramel has 2 grams more fat and 25 more calories than its original counterpart, because it seems to be skimpier on the flavor (and is actually 0.14 ounces lighter than its original counterpart). The original has an added textural component with the nougat, and more of a fudgey chocolate flavor. In the end, I'll stick to what I know best — a classic Milky Way.
Have you tried the new candy bar? What were your thoughts?