Taste Test: Ritz Munchables Pretzel Crisps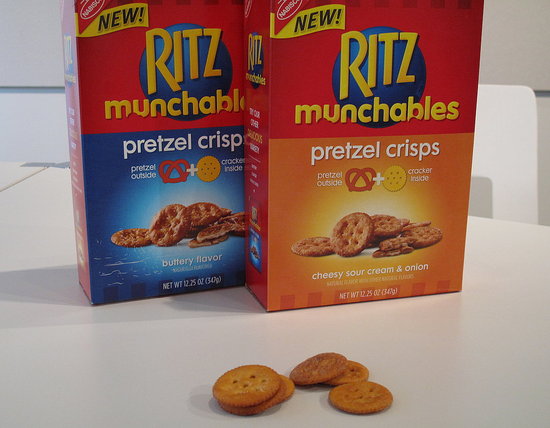 I wasn't allowed too many snacks growing up, but there was one exception: Ritz Crackers. For reasons unbeknownst to me, these crispy, airy pillows of goodness passed the Mom and Dad test — how, I'm still not sure. With their touch of butter, I didn't feel compelled to top them with anything else.
The classic Ritz undoubtedly remains a bestseller, but in a day and age where supermarket aisles are crammed with everything from Cheetos Mighty Zingers and New York Style Risotto Chips, Nabisco's trying to stay ahead of the curve. Enter Ritz Munchables Pretzel Thins (formerly known as Ritz Munchables Pretzel Crisps) — a product that the company describes as "pretzel outside plus cracker inside." Did they live up to their promise? Find out when you read on.
Buttery Flavor: This flavor, the more basic of the line's two new varieties, is essentially a pretzel shell reminiscent of a Ritz on the interior. Despite its "naturally flavored" claim, the cracker has an artificial butter aftertaste. It would've tasted better plain.
Cheesy Sour Cream & Onion: Tasters preferred this salty flavor, which tastes a lot like a pretzel dipped into some cool sour cream dip. But it leaves an unpleasant powder on our fingers, and lacks the pretzel flavor of a true pretzel.
Not quite pretzel, not quite cracker, not quite sour cream and onion chip, pretzel crisps appear to have a serious identity crisis. The faint smell of pretzel had tasters hankering for a real pretzel, and the soft, nuanced crunch gave a craving for a real Ritz cracker. Ultimately, a box of Ritz crackers intermingled with real pretzels would've hit the spot better. Have you tried Ritz's latest snacks?