Taste Tested: Domino's New Pizza Recipe
Taste Test: Domino's New Pizza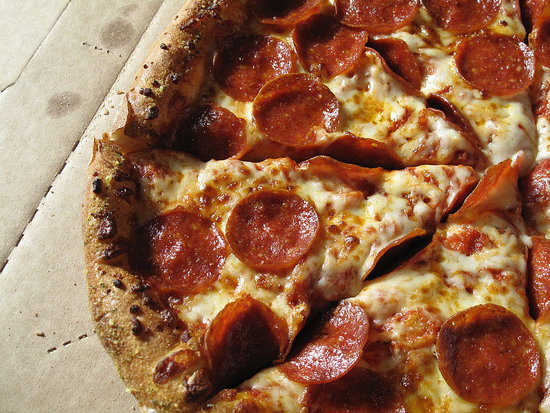 Domino's Pizza ended the year with a big bang! The pizza delivery chain acknowledged that its current recipe for pizza was less than ideal and announced it had given its core product a complete overhaul. Execs promised the new pie would have a sweeter sauce with a red pepper kick; shredded, rather than diced, mozzarella with a hint of provolone; and a butter, garlic, and parsley crust. We ordered a cheese and a pepperoni of the new version to see whether it really lived up to its lofty promise. Did it? Find out when you read more.
Crust: Although the pizza smells great — and led a bunch of unknowing Sugar staffers into the kitchen — the first thing we notice is that the pizza doesn't possess even an iota of crispiness. The doughy bread, which is just a tad bit rough and scrapey on the bottom, would have more textural appeal if it had been cooked longer. The crust is much saltier with a far more pronounced garlic and butter flavor. There are even a few specks of roasted garlic baked into the dough.
Sauce: Although we aren't able to detect any red pepper, the sauce seems more flavorful, and also sweeter.
Cheese: The flavor and consistency of the cheese is similar to the old recipe — melted and gooey. Some tasters claim it has a bit more of a tang, likely a product of the provolone blended in.
I wasn't able to locate nutritionals for both recipes, but I'd say that the new recipe has more salt and sugar than the old one. Still, overall, the pizza is an improvement from the old recipe, and the limited-time offer (two medium, two-topping pizzas for $5.99 each) is a decent deal. Have you given the new recipe a try? What did you think of it?